#DigiperformStory 
In our Trainee Speak Section, we introduce the real stories of our trainees who have decided to
learn digital marketing
and doing exceptionally well in the industry. In this post, we would like to introduce you to an amazing girl who believes to stay one step ahead from others. Meet Digiperformer
Diksha Khaneja
a classy, creative, confident and ambitious girl from Delhi, who has enrolled in our
Digiperform South Delhi
center and completed her digital marketing course. Since childhood, she has been passionate about Fashion and Beauty.  She felt that she should take her passion to the next level. How? We decided to get in touch with her and know her story. And, it was amazing! Let's read to find out.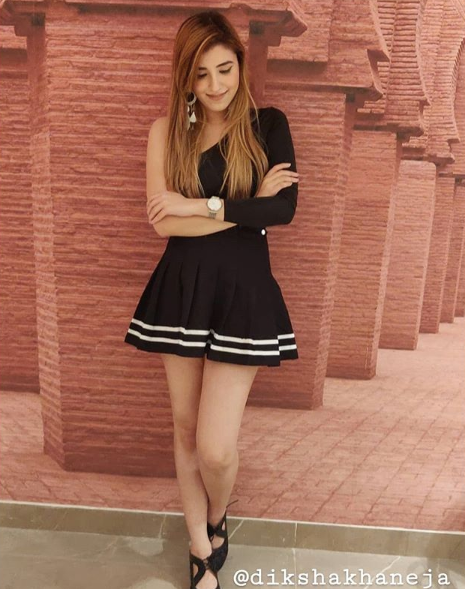 Digiperform: Hi Diksha? First, thanks for choosing us and be part of our Digiperform family. We want to know more about you.
Diksha:
Pleasure is all mine to be part of Digiperform. My name is Diksha Khaneja and I belong to Delhi, India. I was extremely fortunate to be raised to exercise my interests and think independently of the status quo. I dabbled early on in a host of activities that improved my hand skills and sense of space and color. I took the initiative to start my own Facebook page called Diksha's Parchment Gallery, where I would periodically share my work in handmade paper and greeting cards. Please run a web search on this for more details. During this time, I also perfected the difficult task of calligraphy in foundational and ringlets hand. Although I do not carry an official certification of this work, I am confident of my ability to produce appealing designs and am very open to pursuing this as a business in the future. I graduated from Maharaja Agrasen Institute of Management Studies (GGSIPU) with my Bachelor's in Business Administration in 2017, whereupon I was accepted to 'London School of Economics' summer school program in Human Resource Management and Employee Relations, where I received professional training in working with people globally and moreover, some valuable lessons in conducting myself in corporate environments. After completing summer school, I was convinced that I needed to groom myself in etiquette and also wanted to help other people who wanted to better themselves. This led me to pursue a Cosmopolitan Course from the ISOE Finishing Academy, Delhi, which is internationally affiliated to the Etiquette School of Manhattan, U.S.A. My fondness for creatively challenging me remained and I pushed myself to pursue a course in Advanced Makeup from the International Accredited Organization recognized Aashmeen Munjaal Star Academy, Delhi. I successfully completed this course and drew on my earlier experience of sharing my artwork by independently marketing myself as a makeup artist through social media pages. Please refer to my testimonials and work on Instagram as
@dikshakhanejaofficial
Taking my learning further, I worked with YMK Designs as a makeup artist in Amsterdam for one knowledge-filled Project.
Digiperform: why you decided to learn digital marketing?
Diksha: I have learned the art of marketing myself through trial-and-error and initially faced a few challenges.
While I was confident about my work, I was unsure about how to build up a client base and promote my skills as a sincere individual.
I found that digital marketing is the only way to promote my skills with the world.
Eventually, I developed a knack for interacting with different people, managing time effectively, respecting deadlines, and always ensuring complete customer satisfaction.
I am currently a freelance makeup artist who also has worked with Shiv Productions and has applied professional-grade makeup to over 1000 clients, including Bollywood celebrities such as Tusshar Kapoor and Ritu Shivpuri in the pageant Miss Delhi 2019.
During my experience of marketing myself as an independent artist, I discovered that I wanted to solidify this with a formal degree.
I was searching for the best
Digital Marketing course in Delhi
. and after researching a lot I finally decided to do digital marketing training from Digiperform with a specialization in Social Media, Online ads and SEO. After learning digital marketing I have also made my own Makeup website.
Along with this, I have helped many solo singers and ran their ads on youtube that too on their competitors' youtube channel which benefitted them a lot.
Digiperform: What exactly makes us stand out from the competition & urge you to choose us over others?
Diksha:
Before choosing Digiperform, I took a trial with many other marketing institutes but I was not satisfied with them as they are unable to answer my tricky questions.
However, when I took the demo class in Digiperform I was quite impressed with the mentors as they are professional and were able to answer me. I felt confident and secure about my future that's why I invested my time and recommended Digiperform to others. As of now, a lot of my friends have joined Digiperform and they are quite happy with it.
Digiperform: What are your future goals, and if you had a piece of advice to someone just starting out, what would it be?
Diksha: My goal is to become Miss Perfecto. According to me, one can become perfect if they have actually worked hard, with a lot of dedication, sincerity, and guidance.I want to make the most of it with my digital marketing course. That's why I am working day and night on projects. I would definitely recommend Digiperform to all those people who are juggling to find the right way to market their work.