Podcasting is the new marketing trend that is quite followed by marketers these days. Podcasts are like another talk or chat shows that completely vocal and informative. It is mainly held by one main host which may be accompanied by the guest speakers or co-hosts sharing their life experiences and journeys.
Podcasts are certainly a great way of online marketing which gives business or marketers freedom to share about their new launches, products or services. You can reach many at once by being vocal.
The best part of podcasts that it can get recorded and listen later as per the individual's convenience.
This new form of marketing is a big hit in India. Therefore, we have decided to reach out to the influencers or podcasters who have fascinated with podcasting and using the medium to educate millions.
During our search, one of my friends suggested us about Storiyoh, a social podcasting platform where you can find podcasts of all genres. From TedTalks to Political News, Storytelling to Documentary, you will find every sort of entertaining podcasts and gain knowledge. It is a great platform which urged us to get in touch with its Founder and ask more about it.
DigiTalks By Digiperform:
In DigiTalks By Digiperform, we are representing the
Founder & CEO of Storiyoh, Rahul Nair
, who has given a different turn to on-demand audio experience by entertaining millions of listeners with an abundance of knowledge.
Why don't you guys read out to know more about Rahul, his love for podcasting and why is Storiyoh a big hit. It's worth a shot.  
Digiperform: Hey Rahul! We welcome you to DigiTalks By Digiperform. Our readers would like to know about you a little bit, both personal & professional front.
Rahul: Absolutely! I was born in Nasik, Maharashtra and brought up in many cities and countries, including Mumbai, Shanghai (China), Coimbatore, Dubai, and London. I was schooled in all these different places and across different cultures and languages.
When I was in Shanghai in China, we picked up Mandarin and I also had a chance to act in Chinese opera which was telecast on the local television channel. That was a lot of fun. (He chuckles)
After my peripatetic schooling days, I did my undergraduate and postgraduate studies in the UK, finally graduating from the London School of Economics and Political Science (LSE) after having read for an MSc in Organisational Behaviour.
I started my career in financial services, starting out as a private client stockbroker. I later moved on to create a niche real-estate company in Dubai, post which I conceptualized and developed my own coffee shop in Kochi.
After my hospitality stint, I moved to Dubai to work as a management consultant. My last corporate stint was in London as a Director in GEMS Education, an international K-12 schooling company.
In 2016, I decided to take my third plunge into entrepreneurship and that's when Storiyoh happened. The motivation for Storiyoh came from my interest in working for the education sector and also from my experience with the BBC.
Digiperform: How the idea of Storiyoh came up? Please share the goal and objective of your company. What makes it different?
I have always been fascinated with building stuff – finding problems to solve, and that started during my university days.
Before starting Storiyoh, I was working for a large education company in London, heading their Intelligence unit. We were looking at promising innovations in the space.
When it comes to education, I think that we all learn all throughout our lives. The traditional education system isn't designed for that. Haha, that could be a story in itself. (laughing hard)
Anyway, at the time, I had started listening to podcasts. This must be 2014-2015. I've been a big BBC Buff of my entire life. The stories I was listening to while traveling to the office and back felt phenomenal.
That's when it struck me. I found myself tuning into podcasts whenever I had a few minutes to myself – in commute, between meetings, over the morning coffee. I found them better use of my time than listening to music or idling.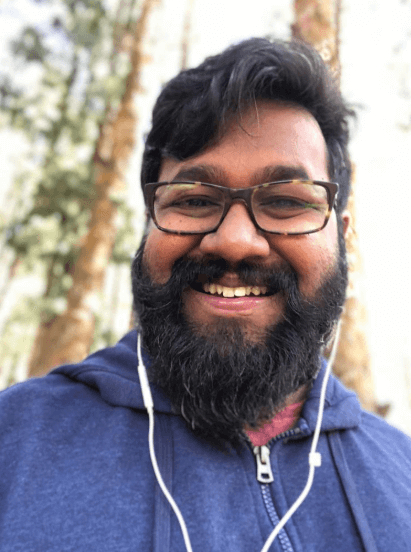 When I turned my attention to podcasts, one problem really stood out to me. This is what I call the
'Black Box experience
' of podcasts.
Here's what happens when you listen to podcasts. You hear new ideas, new stories and you share it with your friends. They can even help you make new friends.
In the last 4 years, I have told my friends about several new podcasts that I'm listening to. I've met people and we became friends because we both listened to and enjoyed the same podcasts.
But interestingly enough, there is no online platform where I can do this effectively.
You and I could be using the same podcast app but we remain disconnected, and in this age that didn't make much sense to me.
That's how we set out to build Storiyoh. As a social network built around podcasts. This is what sets Storiyoh apart from the hundreds of other podcast players out there.
Connections are important to us as humans. It makes us happy to find new people to meet, discover what each other is like and hopefully build a relationship. I will like Storiyoh to be the platform that allows us to build these connections around a mutual love for podcasts.
The best part of Storiyoh:
In the app, you can know what your friends are listening to. You can meet people who like the same podcasts as you. You can also read what other people have to say on the podcast episodes they listened to. If you find any of that interesting, you'll always find new shows to listen to and new friends to meet.
Of course, anyone in the world can use Storiyoh, but we are particularly passionate and purposeful about India.
Digiperform: Please share your journey so far? What are the major challenges you face as the Director of the company?
Rahul: As a founder, there are far too many challenges to face head-on.
When you're building a technology product, you don't know if people will adopt it or not. This is a big uncertainty. Given the stage we are at, the biggest challenge we are focused on right now is to
find the Product Market Fit (PMF)
.
The podcasting universe isn't exactly a universe. It's a multiverse. There are worlds within podcasting. Just like people have their own unique tastes in books, movies, music and pretty much any other art form, there are smaller worlds that you uniquely need to reach out to.
Finding the product-market fit means to be able to build a product that meets the needs of each of these many worlds within the podcast multiverse.
It's complex and challenging, for sure. But that's what all the fun is about – figuring out how it'll work.
Talking about the journey, it has been a pretty good one but it's just getting started in many ways.
Storiyoh went live in
July 2018
and we got our first
1000 users
within a month. We have been involved in the community and that has helped us attract new users consistently.
Right now, 1500 people log in to Storiyoh on a regular basis to listen to podcasts they love. We have more than 5,00,000 shows in 50+ collections for people to pick from.
Digiperform: Why you have chosen Podcast as a medium to share information rather than other broadcasting platforms?
Rahul: This is a traditional vs digital question we see pop up fairly often in the media industry. Newspapers and Television industry has seen it happen and it is now happening to the radio. The answer is fairly consistent across the board.
Newspapers, Television and Radio have all broadcasted things that they feel are best for their audience. But, broadcasting has its constraints.
One-
You need to be in a place where the content can reach you. If you're in a place where your favorite radio station doesn't reach, that's it. It happens all the time when we go on long drives, between cities or across states. Isn't it?
Two-
You have to tune in at just the right time to make sure you don't miss anything. This is not helpful to me as a user. We all have busy lives these days. Nobody wants to leave everything else and tune in to a television show or radio show.
Three-
You don't exactly have control over the content you're reading or watching or listening. Remember listening to the radio on the way to your office and being annoyed by silly advertisements. Or endlessly changing radio channels, to hear a song you might like.
It again wastes a lot of time.
Broadcasting is called a linear model of content distribution in the media industry. But the Internet has introduced a non-linear model.
Look at Netflix. Or YouTube. Or Flipboard. Or Twitter.
You can choose to read or watch anything, anytime, anywhere. Now, with podcasts, you have that same choice over what you listen too.
This means that you can listen to your favorite shows at a time that YOU CHOOSE. You can either stream the content if you have an internet connection or can download it for a long road trip ahead.
This is powerful and this is why we are focused on podcasting.
Digiperform: Why don't you share your favorite list of podcasts with our readers?
Rahul:
Oh I'd love to. Nothing brings me greater joy 🙂
Let's see. If you want to jump right in and feel the power of podcasting, then I would highly recommend
Death in Ice Valley
,
The Assassination
and
Serial
.
I also like to use my drive time to catch up on news, interviews, and stories of inspiration. I'm glad to see that there are some really good choices right here in India itself. Try happening in India are
3 Things
,
Newslaundry Podcast
, Quint's
All You Need To Know
and
News and Views
.
For international coverage, BBC is awesome. Try their
Global News Podcast
,
World Business Report
and the
Business Daily
.
When I'm in a mood for a documentary or listen to interesting cases of investigative journalism, I turn to
The Documentary Podcast
and
The Compass
.
When I'm in a mood to tinker and listen to new innovations, tune in to
Ted Radio Hour
and
How I Built This with Guy Raz
I can go on forever, haha!
Long story short. There are several podcasts that you can find interesting. We have created
more than 50 collections
, including a collection for
dog lovers
and even
film history buffs
. There can be more.
Come on over to Storiyoh, and let's add them together 🙂
Digiperform: According to you, how Podcasts can help businesses to beat the competition in the market.
Rahul: First of all, I think the best competitor for a business is that business itself. Today, you get to continuously innovate and disrupt your own business model. Otherwise, someone else has come and done it for you.
Think of podcasts from that lens. If you don't have a podcast yet, start there.
Podcasting is one other way for you to communicate with your audience.
Within communications itself, I can't stress enough on the importance of storytelling. It is a skill that brands of all sizes must develop.
Effective storytelling can actually be a BIG competitive advantage. This thought usually gets much less attention than it deserves, but it's true.
It so happens that not many brands are doing podcasts yet. When space is that young, the audience is open to listening from whoever is out there. This makes it a perfect place to hone your communication skills.
Try putting out stories you think your audience will find interesting. If you can tell a good story, you have an opportunity to connect with your audience and make them long-running fans in a lot of cases.
You can tell stories about your company. Stories about the people who are running the show. Stories of the products you are making. Or even entertaining stories that align well with your brand.
For example, General Electric (GE) launched an eight-episode, fictional sci-fi thriller podcast called
'The Message
'. The podcast used storytelling techniques that reminded people of the radio in the 1940s and 1950s. It was a hit, getting millions of downloads and a shelf-full of industry awards.
This is how podcasts can be used by businesses. Find topics that relate well to your brand and then tell stories around that topic that your audience finds interesting.
It builds your brand at least and works as a powerful marketing engine at its best.
Digiperform: What are the future possibilities of Podcast in the coming days?
Rahul: I think podcasting has been simmering for a while now, and it is fast approaching its boiling point.
I think it's also important to contextualize that question.
So, podcasting is in different states around the world.
As you know, it's better developed – I mean in terms of both creation, consumption and general awareness – in the West. It is also well developed in China – China has overtaken the US in terms of listeners.
According to the data I have seen, China had about 119m listeners as of the end of 2017, while the US had some 78m. There are lots of other untapped markets, wide open to be served.
Generally speaking, many of the world's leading media houses are investing quite a lot in creating podcast first content – BBC, Vox, The Guardian, The NYT, NPR etc., and I think that shows some validation of the potential inherent in this medium. Some of it is happening back home as well, with Indian Express and Mint already out with their podcasts.
The way I see it, I feel the timing is about right for podcasting to really take-off because – think about it – we have the technology already well in place (rising internet penetration, rising smartphone penetration, cheaper data packages with huge infrastructure investments like Jio, 4g, 5g, great advancements in voice-based computing), the need for lifelong learning is an economic imperative now so there is real impetus here.
In terms of entertainment options available, on-demand audio can provide amazing and stimulating entertainment in an economic way, and culturally we have all happily accepted and welcomed on-demand services into our lives. So, considering these points, we can perhaps argue that the timing is just right for podcasts to take-off in a big way.
Digiperform: Any suggestion you would like to give to our readers and students?
Rahul:
Live in Permanent Beta.
Focus on learning and growing. Keep experimenting and don't worry about perfection. Get good enough and get going.
On Selling:
Ask yourselves – will I pay for this? You have to be convinced about this if you want to live off this trade. DO NOT SHY AWAY FROM PRICING YOUR PRODUCT!
Related to the above point, create for yourself first. You should be proud of what you put into this world.
On Ideas:
Create meaning. Look in this day and age, with all this information overload (we are up to our eyeballs with information), more of it just disenchants us. Focus on creating meaningful experiences, and then sustainability will be solved.
Be courageous and tackle stories and issues without fear.
Finally
,
Understand the power of connections. Trust me, it is a life AND business philosophy worth really thinking about!
Epilogue to this conversion:
Wow, it's been amazing interacting with Rahul. It feels like we want to know more, more and more…..
Thanks, Rahul for being so interactive and sharing your valuable experience with us. Digiperform is thankful. 🙂
Follow Storiyoh on Instagram | Facebook | Twitter | Quora
Follow Rahul Nair on LinkedIn