Digital Marketing is one of the "
Top 5 Professions
" as it is in huge demand by the entrepreneurs as well as job seekers. Why not? I mean look around you, everything is so digital and online. Your every minute is trapped to the various links on the internet. You manage your relations on
Facebook
and
Instagram
, finances through
online banking
, careers through
LinkedIn
and so on. This is the same case with everyone across the globe. Those who have no idea what is Digital Marketing, then let me rephrase it in a brief.
Digital Marketing is the new way of marketing which has been acknowledged across the globe. It is a set of online marketing tools and strategies that help marketers and businessmen to promote the products or services through digital mediums including internet, smartphones, laptops etc.
If we talk at the country level, India itself at the path of digitalization and have more than
465 million
internet users. Even our respectable Prime Minister has been promoting
Digital India Campaign
gregariously with a vision to transform India into a digitally empowered society and knowledge economy. It also aims at the inclusive growth in the areas of electronic devices, products, manufacturing and job opportunities.

Our Prime Minister has confirmed that there will be 18 lakhs more digital jobs by coming next years and not enough professionals yet to fulfill them. Worldwide the demand a for digital marketing professionals will rise by 38% this year which shows how much it is trending and demanding profession globally.

It proves that Digital Marketing jobs are very lucrative because of the shortage of skilled professionals in the market and the demand is sky high.  In the coming years, Digital Marketing would not remain just a choice but it would become the need of marketing industries because of increasing competition and globalization. So, it's a high time to know about Digital Marketing and its future perspective.
It is the New Form of Marketing: The time has gone where marketers use old ways of traditional marketing to promote products or services. As millions of people are depended on the internet to search and find everything, marketers are making most of it by using digital means. Digital is the new trend across the globe. More than 50% of world population is connected via the internet. Social media channels are hugely popular. Smartphones and affordable internet data plans have made it easy to stay connected 24X7 even on the move – a necessity in these times of dynamic market changes. This makes it more important to follow the same trend and target the audience to achieve the best results. This is the reason companies demand marketers who have digital marketing skills and can help them to generate more leads and sales.
Top Jobs: The demand for knowledgeable and skilled digital marketers in the online space has been on a rise across the globe. Be it USA or Singapore, Dubai or Australia, digital space has the same kind of needs and jobs. Most popular profiles of Digital Marketing are:
 Analytics
Brand Marketing
Content Writer and Strategist
Campaign Management and Conversion Rate Optimization
Digital Project Planning/Management
Digital Media Manager
Digital Marketing Strategist
E-commerce Specialist
Social Media Marketing Specialist
SEO Expert
Web Design and so on.
As per the demand data, I have listed the average salary a Digital Marketing is getting within in India to give an approx idea why Digital Marketing has helped you get a highly paid job.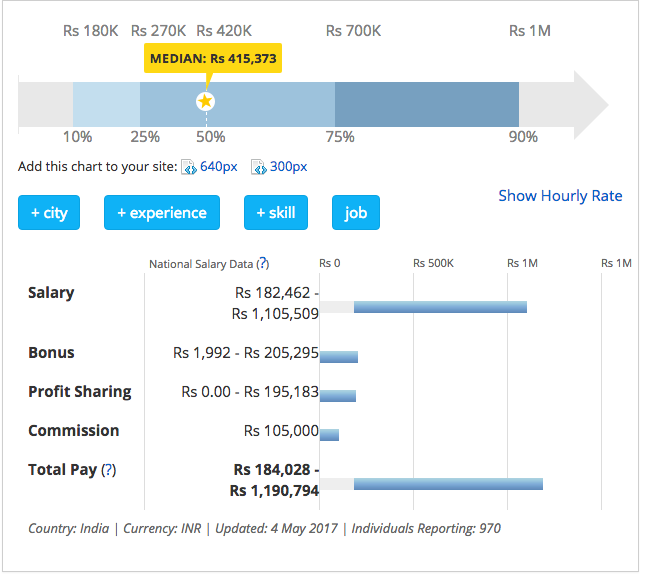 You can Choose Sector that Interests You: Digital Marketing is a huge industry and there is a lot going on under the umbrella like I have stated in the previous point. You can hold a multitude of roles in digital marketing for a wide variety of dispositions and skills. You can become content or email marketer, social media or mobile marketer, e-commerce executive, inbound marketer, an SEO or PPC executive or you can be an online PR expert. It is always great to have more to choose to make when it comes to your career.
Be a Freelancer: A freelancer is a term generally used for a person who is the self-employed person who offers services to multiple businesses. The type of work freelancers varies from person to person specialization such as social media marketing, content writer, copywriter, graphic designer and more. Being a freelancer, you don't need to worry about working hours; you become an independent soul and can work for multiple clients at the same time which will add up your income for sure. You can pick your own brands and companies for the same.
More than an MBA: According to study, only 7% of MBA candidates from Indian Business Schools excluding those from the top 20 Business Schools get jobs straight after completing their course and hired in the corporate sector. Barring the top class business schools like IIMs, more than 5500 business schools in India have been producing the "unemployable" graduates in the market, earning less than Rs 10,000 per month if they find placements. The study blames these schools as they have made education as a source of business to earn money and provided very low-quality education and infrastructure. Due to this, you can find an MBA in every house. These same reasons are also affecting our major top class business schools. On the other hand, Digital Marketing teaches and gives you a clear vision and detailed information on the need of the market. The big and small enterprises are following the same path so they need the Digital Marketers professionals or experts to fill the gap and help them to target the masses.
I hope now you have few ideas why Digital Marketing is the right platform if you are looking for extra paid jobs and ways – Digiperform