Today, Digital Marketing is playing a very important role in the business strategies of companies. Especially, when we talk about e-commerce.
Nowadays, whenever customers want to purchase any product, they access the internet for the same. In short, having a presence on online platforms become the basic necessity to survive in the market.
Therefore, if you don't want your company to become obsolete due to its non-existent or poor presence on the Internet, the best thing you can do is to go with the trend.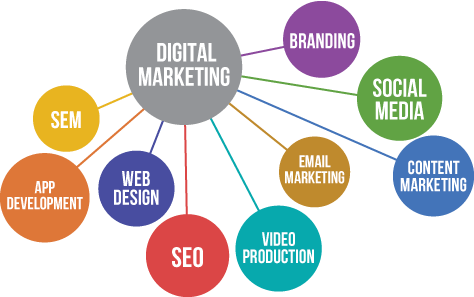 Learn about digital marketing strategies and explore the online marketing tools which will help to make your company look attractive and professional in the immense ocean of the Internet.
Also, new technologies make it easier for us to work with online marketing tools that will provide added value to your brand.
Below, we have given you a list of tools and keys that will help you stay up to date and differentiate yourself.
Define Your Digital Marketing Strategy
It is very important that you define a solid marketing plan before you start incorporating digital marketing strategy.
In order to create a customer profile, a buyer profile which is also known as the "
buyer persona
", is established. You can also define several different profiles when your target customers are different, segmented into groups.
To define the profile, it will be important to gather as much information as possible about the customer, analyze his behavior, how he communicates and what are his/her habits.
This will give you an idea of how to present our product to fit, what language we should use to get closer to them and the details that can make them perceive us as a closer company oriented to their tastes and needs.
Position Your Website
The website will undoubtedly be your ideal public presentation to your potential customers.
Whenever your audience (customer) look at your brand's website, it will give them an idea about your services, goals, achievements. This will help them to understand you better and understand what makes you stand out in the market,
Also, it mainly supports your digital marketing strategy, so it is going to be especially important that you take care of the following features in details:
# Design
:
The color palette you use is important. Depending on what message you want to convey you should use lighter or stronger colors. Also, make sure that the sections you create are accessible and easy to differentiate to make it easier for your client to navigate your page.
# Content:
Valuable content should be added on your website. The client, when entering your website, looks for answers; those answers must be visible. It is better not to add a lot of text to the page, though it should contain all the basic information of their interest.
# Loading:
The loading speed of your page is the ideal experience of any visitor. It must load fast, so it is important that your images are not too heavy.
# Security:
Your page must be secure so that your client does not question its reliability (https).
# Format:
More and more people are browsing the web through the mobile, so it is essential that you have the right mobile format for your site.  
# Contact:
A contact number, an e-mail address and your address must be mentioned on the website. It proves the trustability of your brand and helps to facilitate your clients the contact with the company for any type of doubt or need that arises to them.
Also, it is very important to position your website on Google. Search Engine Optimization plays an important role in your website visibility. You should what kind of keywords helps in your website visibility.
So, the content of the pages should be created in a way that clubs your major keywords. This strategy will help to appear your website on the first pages in searches. It will also help us to get them to talk about our company and link our website on other pages.
Humanize Your Company
Customers are looking for more than buying a product; they are looking for a shopping experience. To give them a satisfying experience, it will be important that they see your company transparent, close and committed. Therefore, give them the most humane vision possible (no one creates a link with robots unless we talk about the movie "Her").
To do this, the company must provide a brand personality that conveys the message in the customer's language and is focused on their tastes. The client wants to feel special and unique.
It will also be important to introduce the team and have quality customer service. In addition to the skills and attitudes that workers must have with customers, it will be important to help with the right technology to create the greatest customer satisfaction possible.
Having innovative customer service tools such as
virtual PBXs
and
Call Center software will make the difference
and exceed the expectations of our potential customers.
These systems allow you to manage calls in a more effective and professional way saving time to your employees and customers. It is a support that will help your customers to make an important connection with the company as they will feel as if they are part of it.
Presence In Social Networks
To conclude, you should highlight your brand's presence in social networks. In addition to being a fairly cheap method, social networks allow you to reach a variety of people who can become almost unlimited potential customers.
Using LinkedIn, Facebook and Twitter to create and share company information are increasingly important in today's businesses. The use of Influencers, an action that is very fashionable lately, can also be helpful, as the content shared through certain characters, can create much more impact on specific customers.   
About the Author:
Emma Smith, PR and content manager at
Fonvirtual
. Fonvirtual provides companies and entrepreneurs with international virtual phone numbers and other virtual services. I'm interested in digital marketing, technology, and international logistics. I am a usual collaborator in blogs, where I try to spread the word of telecom services in international business.