India has almost touched 100 percent digitalization where internet is accessible to each part of the states. And, Google understands its impact on advertising. As India is a multilingual country, Google is trying to introduce new ways to reach out to a large base of India's internet users in various native languages.
Earlier, Google's advertising products rolled out 3 Indian languages- Hindi, Bengali and Tamil, the most influential Indian languages across the world and top three spoken languages in India.
On 27th June 2018, Rajan Anandan, Google vice-president (South East Asia and India), has announced the launch of Telugu language support for Google AdWords & AdSense; which is the 15th most spoken language in the World with around 74 million of those speakers residing in India, itself.
According to him, the step has taken to help web publishers and advertisers to reach out the large of the base of internet users in the Telugu language.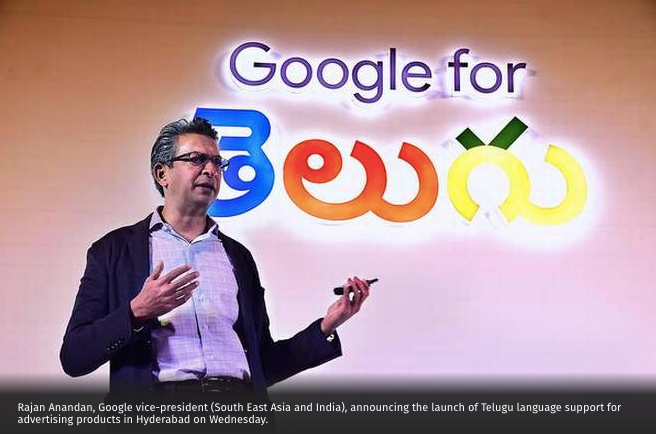 "Expanding the support for local Indian languages on our ad platforms is aimed towards making India's internet more useful for a billion Indians. In the last few years, we have systematically addressed the barriers that prevent local language users in India to gain from the internet," Anandan added.
This means now businesses who want to connect with Telugu local users can put their content in the same language. "They can even start doing from today", as confirmed by Shalini Girish, director-Google Marketing Solutions, Google India.
She added, "It is estimated that Indian language users online in the country would be 536 million by 2021 from the current 234 million." Therefore it's a high time to make it more accessible through local languages.
How:
Advertising is all about the content and content creators who have websites and blogs in Telugu would be able to sign up for Google Adsense/AdWords and run ads on their content and attract advertisers from across the world.