Fashion is a multibillion-dollar industry which would never die and has a considerable impact on the way ordinary to high-class people. The way you dress up matters to everyone.
The fashion is generally influenced by the social change and counter trends where a fashion blog acts like a savior when it comes to staying updated as per the trends.
A fashion blog covers fashion at all levels from largest fashion design to the smallest independent designers that include particulars such as items of clothing and accessories, beauty tips, trends in various apparel markets, celebrity fashion choices and street fashion trends.
The Hundreds of fashion bloggers are available in the market who showcase their style and keep readers updated through their fashion blog. Though there are only a few who make their name and provide you the genuine reviews/details about the latest trends.
An ideal fashion blogger would focus on fashion and provide advice featuring how-to articles for the lay reader. Likewise, in this post, we are going talk about one of the famous fashion influencer as well as blogger who keep on educating people and discussing clothing fit, the matching complementing of colors, latest trends, latest makeup trends, celebrities interviews and much more.
Here we go…..
Name
: Hetal Shah
Profile
: Fashion Blogger, Influencer & Founder of My Fashion Villa
Blog
: My Fashion Villa
Website
: MY FASHION VILLA
About Hetal Shah: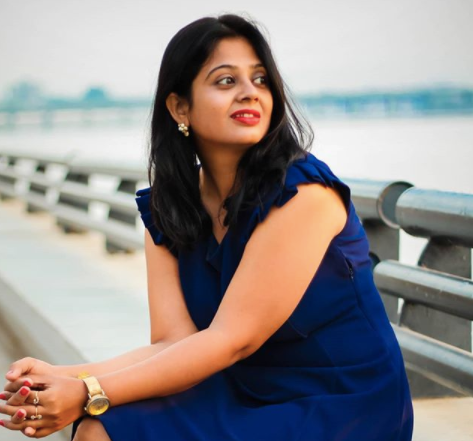 Hetal Shah is a very known fashion blogger and founder of MyFashionVilla.com. She is an enthusiastic woman whose love for fashion can never die.
Currently, she has written more than 600 blogs and interviewed several celebrities providing readers with the latest fashion trends and tricks to keep it stylish.
Also, she is working as an internet marketing professional while maintaining her own fashion blog. Eye Makeup, Theme Makeup, Hair Care, Skin Care and Body Care are her core areas of expertise. She is a very happy go lucky kind of person who loves chocolates and shopping.  
About My Fashion Villa:  
My Fashion Villa is fashion blogging platform providing the latest fashion news about the glamour world. Hetal Shah has created a unique place where youths and fashion lovers can discuss as well as learn about the fashion, style, beauty and glamour industry.
My Fashion Villa also provide the platform for new or wannabe fashion bloggers, designers, models, makeup artists, hair stylists, modeling agencies, fashion photographers, fashion events and fashion clothing companies to explore and showcase their creativity on the site.
How did the journey begin?
Being a shopaholic and passionate about fashion, she used to read lots of international fashion blog and watch various lifestyle events.
During 2012, she was working in a digital marketing company where she used to learn new concepts about online marketing and read about lots of international fashion & lifestyle events simultaneously.
There, she realized India lacks the kind of content where readers can find everything about fashion, trends, makeup, designers, models and so on.
Thereafter, she decided to create the content by herself and founded her personal fashion blog-
My Fashion Villa
.
After one year of blog success, she started getting various opportunities to attend the Lakme fashion week and other fashion events.
The Designers and brands started approaching her to collaborate and showcase their brand/cloth lining on her fashion blog. Rest the world knows…..
During the DigiTalks by Digiperform with Hetal Shah:
During the interview, Hetal Shah shared with Digiperform how her journey started, what made her motivated, how she used digital technology and how she managed to monetize her blog.
You can view the video to have an idea of how she managed to be a successful fashion blogger.
Timestamps to make it simpler for you:
1:02 – The 1st time Hetal Shah went digital for business purpose.
3:58 – When & How & What of MyFashionVilla.com.
4:41 – How should be your Fashion content on the Internet.
8:21 – Good news for all the content writers & guest bloggers in Fashion niche.
11:56 – When did you apply for Google Adsense Monetization for your blog.
16:07 – How to turn your audience questions into Content.
19:46 – Good captions on Instagram and different than others.
22:51 – 100,000 a month blog traffic.
24:00 – What is your Blog post length on an average.
25:02 – All about the traffic for the blog. Then & Now.
27:52 – Master the skill you are good at & outsource the rest.
28:42 – Very important lesson for all the bloggers & content creators.
30:57 – Take 100% responsibilities for all your successes & failures.
31:15 – Her site got hacked for 3 Times in a row.
32:58 – Blog income with multiple sources of income.
33:35 – 3 types of monetizations on her blog.
35:25 – ADVERTISE WITH US – How does that work?
39:24 – MyFashionVilla on social media platforms & frequency of posting content.
41:23 – Why is Adsense money less for her blog even though she now has around 100,000 views a month.
42:31 – Fashion retailing on Amazon & Collaborations.
45:45 – Final thoughts and tips for digital marketing.
51:48 – Behind the scenes…
For whom MyFashionVilla.com is an Opportunity?
Fashion designer, fashion student, fashion photographer, make-up artist, hair stylist, fashion retailers, beauty cosmetic company, fashion lover, fashion event organizer. All these listed fashion professionals can explore their talent with the help of this site.
In case you feel you have an eye to capture the abstract beauty of things around you and you sincerely want to set firm footholds in the fashion industry you can mail your portfolio at myfashionvilla@gmail.com.
Also, you can follow her at :
Facebook: myfashionvilla
Twitter: myfashionvilla
Instagram: myfashionvilla
YouTube: SUDHANSU SEKHAR PANDA