Landing pages are a staple of any successful online business. 
As you increase the number of landing pages you have, you also increase your leads and sales. 
Since they've become so common, creating an amazing experience for your visitors is more important than ever. Chatbots help you create that experience and increase your conversion rates at the same time. 
Chatbots have a lot of potential but they have to be used the right way if you want to see exceptional results. 
In this detailed, guide, you'll learn the benefits of chatbots as well as How to use Chatbots to double Landing Page Conversion Rates
Benefits of Using Chatbots
Just like with many technologies, there are countless tangible and intangible benefits associated with chatbots. The following list isn't everything but it'll give you a solid idea of how powerful they can be.   
Cost savings for sales and support teams
According to Business Insider Intelligence, chatbots can save up to $39 billion annually across sales and customer support. 

This can free up team members to deliver higher quality support when needed, help sales teams close more deals, and create a more efficient organization.
Even if you have a smaller team, an increase in efficiency of 10 – 20% through
proper customer segmentation
can add tens of thousands of dollars a year in profit. 
Messaging apps are already widely adopted
The four largest messaging apps combined have more users than the top four social media networks combined. 
source
Why does this matter? 
Your target market is already used to the interface associated with chatbots and is more likely to engage in a chat conversation. It's natural and doesn't cause additional friction for your users.
After engaging, you can steer the conversation and increase the likelihood of a conversion. 
Better quality customer engagement
Customer engagement and experience are essential in a digital world.
There are countless options and it's more difficult to compete based on features and benefits alone.
The intangible aspects like customer service are becoming more important. 
In fact,
73% of companies
with an above-average customer experience reported better financial performance than their peers.
Chatbots help
improves the customer experience
in a number of ways such as personalization and showing relevant offers to landing page visitors. 
Now that you have a clearer idea of the benefits associated with chatbots, let's look at a few ways to use them to increase your landing page conversion rates. 
How to landing increase conversion rates with chatbots
There are countless ways to
create effective landing pages
and I'm assuming you understand the basics. Chatbots are an additional layer you use on top of the high-quality design to reach your goals. 
In this section, you'll learn multiple ways to improve conversions on your dedicated landing pages. 
Determine a goal for the chatbot
You can't launch an effective chatbot campaign if you don't have a clear goal. Its efficacy is limited if you try to make one chatbot do everything.
It shouldn't
collect leads
, help personalize
the shopping experience
, and ask survey questions at the same time. 
Instead, choose a single goal for your chatbot or page.
For example, if someone is looking at your pricing page, the goal could be to get them to purchase a product or subscription.
If they're on a blog post, you can focus on turning them into a lead. 
Here are a few suggestions to help you narrow down the goal of your chatbot: 
Generate leads

Book a demo

Fill out a survey

Register for an event 
After choosing a goal, you can then create question and answer flows that guide your visitor down the right path. 
For example, if someone is on a page that explains your services, the job of the chatbot is to book a call. Before that can happen, a prospect needs all their questions answered.
Set up your chatbot to answer common questions by linking to
knowledge base articles
, and finally get the visitor to book a call. 
There's no direct human interaction but you'll still see an uptick in conversions. This is the power of choosing a clear goal for your chatbot. 
Personalize the shopping experience 
Another way to increase landing page conversions is to implement a chatbot that helps create a custom shopping experience for each visitor. 
When you have a large product catalog, it can be difficult for your visitors to find what they're looking for.
Even if you have search and things are arranged by category, it can still be difficult for your potential customers. 
Chatbots are ideal for making the user experience seamless in this kind of situation.
It can ask questions that help discover the wants and needs of visitors. The chatbot will then use that information to present the right products or services to the visitor. 
This is the strategy adopted by 1-800-FLOWERS.com. In June 2016,
70% of orders
generated by GWYN – its chatbot – were from new customers.
The key to this strategy is to understand who your customers are and the major paths they follow on the road to purchasing.
You can take this a step further by creating specific flows based on the product category.
Instead of asking general questions, you'll set up the chatbot to focus on questions related to the category they're visiting. 
In a study
by
Rodoula Tsiotsou (Ph.D.) of the University of Macedonia, it was found that brand personality influences the involvement of a consumer with a brand.
If your brand personality resonates with the consumer, they're more likely to engage and patronize you. 
A chatbot can help you bring your brand personality front and center.
Casper is a mattress company with a playful attitude about sleep. It took its playful attitude to the next level with a chatbot called
Insomnobot 3,000
.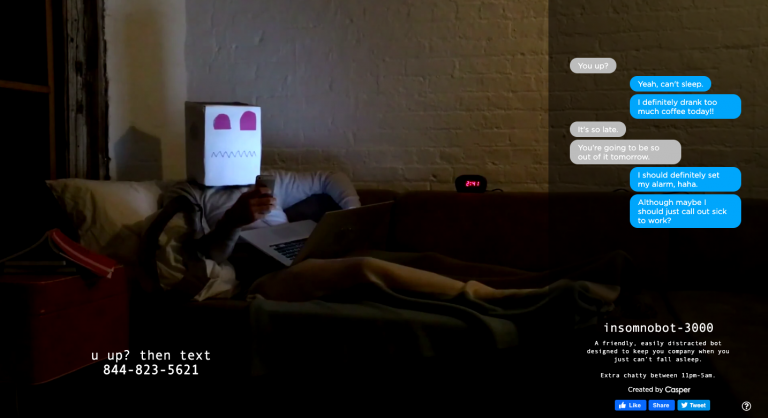 Even though it's not designed for direct conversions, it builds brand goodwill and starts conversations. I wouldn't be surprised if the chatbot occasionally recommends Casper as a sleep solution. 
Disney also takes advantage of its brand personality. It's in a unique position because it has unique characters so each one can approach a visitor in a different way.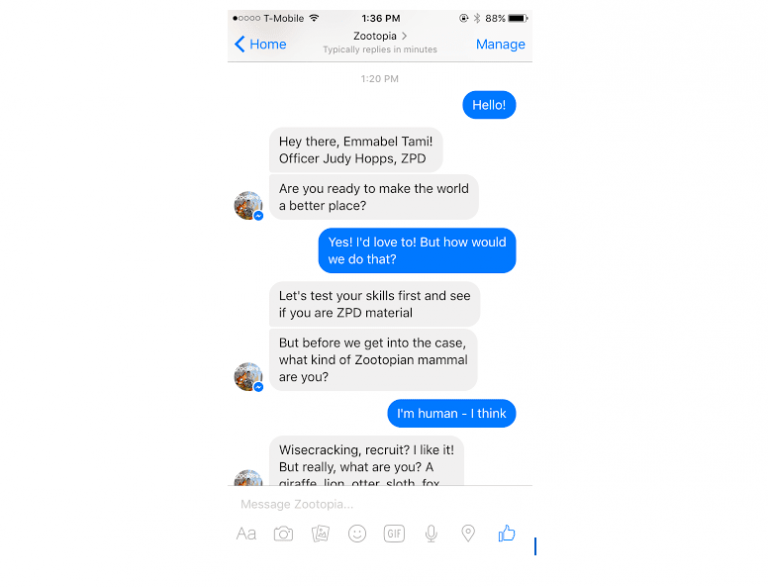 In the above conversation
, a Disney character named Judy from Zootopia leads the visitor through a series of puzzles and challenges to get a detective badge. The chatbot is 100% in character and includes a call to action to watch Zootopia. 
It's not as structured as a chatbot you'd create but still does its job well. Take advantage of this on your landing pages by using gifs, memes, graphics,
infographics
, statements, etc. that are in line with your brand personality. 
Send people to specific pages based on preferences
Not every interaction needs to end within the chatbot. It can be a great way to funnel visitors to the right landing pages on your website. For example, if you have blog posts that produce the majority of your traffic but don't convert well, a chatbot may be the answer. 
Use the chatbot to ask clarifying questions about what they're looking for and present relevant pages they can visit to achieve their goal. Drift does this beautifully by taking advantage of its own software to funnel visitors to the right page. 
First, the chatbot asks you if you need help sorting through the content they've made available: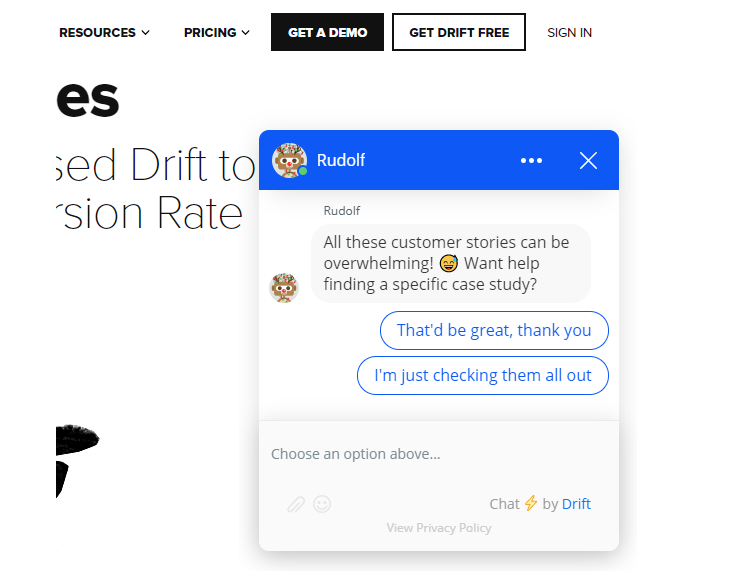 After choosing an option, it asks you the specific kind of content you're interested in: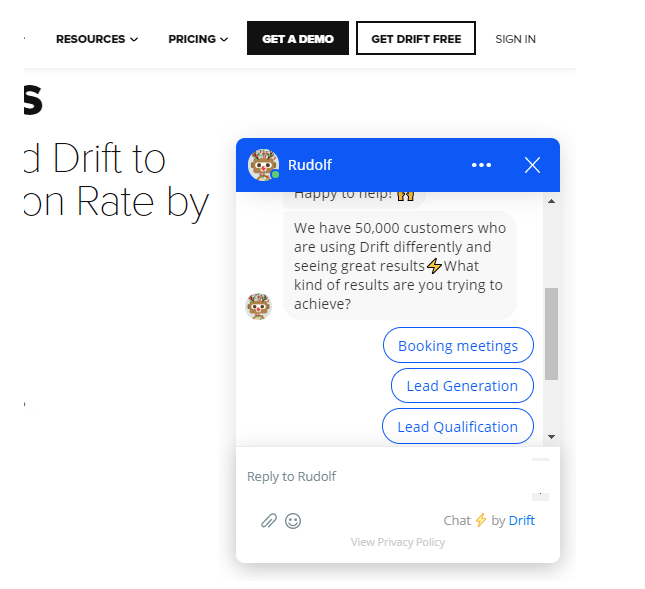 It shows you a specific page that is in line with your interests. 
It doesn't end the conversation there. It proceeds to ask if you'd be interested in learning more about the Drift platform. 
You're either routed to a real human or you're asked to book a demo. 
This is powerful because it gives visitors the ability to self-qualify themselves. If they're not ready to talk to a person, the bot will handle the interaction. If they are ready, they'll be routed to a real person immediately. 
It combines the scale of automation with the ability to have a real conversation. Since 30% – 50% of sales go to the vendor that responds first, speed is essential.
If a visitor is ready to purchase or move further into the process then you won't lose out because your competition beat you to it. 
Collect data and optimize pages
The final aspect I want to touch on for improving landing page conversions is the ability to collect data and optimize the pages people visit most often. 
This is an indirect strategy that takes advantage of what people are looking for when they interact with your chatbot. 
For example, if there's a landing page about consulting services but people keep using the chatbot to get a better understanding of the deliverables; that may mean the page isn't clear.
They still don't understand what's being offered. The business can go back and update the information or make it more prominent so it's easily found. 
You may realize that most people use the chatbot to find a specific service page. If that's the case, it may mean that's the most popular service or it's hard to find on your website.
In either case, it needs to be displayed more prominently and further optimized for conversions.
These are just a few ways to use the data available to create better pages and increase conversions.
Look for patterns in user
behavior and segment
accordingly. Over time, you'll see conversions rise. 
Conclusion
I hope the article, How to use Chatbots to double Landing Page Conversion Rates will really help you to double the landing page conversion rates.
Chatbots are an effective way to increase conversion rates across all of your pages. In order to reap the rewards, it's important to use them properly. 
This article has shared 5 ways to take advantage of chatbots and grow your business as a result. Use one at a time and measure the results. Once it starts to yield fruits, go back and incorporate the other strategies until you're happy with your conversion rates. 
Let me know what you think in the comments and don't forget to share. 
Daniel Ndukwu is the Founder of KyLeads – a platform that helps businesses turn more visitors into subscribers and customers using smart popups and
interactive quizzes
.