Digiperform always encourages trainees who have a zeal to stand out in the crowd and believe in living their passion.
Like, our trainee from Digiperform Malleshwarm Bengaluru, Smitha, who got recently appointed by one of the top digital marketing agencies, Silver Feather Infotainment.
During the interaction, she shared that she always wanted to make it something in social media and now feel very delighted to be part of the industry.
So, we decided to ask what she liked the most about digital marketing and why she had chosen Digiperform to be her mentor in the digital journey.
Digiperform: It's a pleasure to connect with you! Before heading further, we would like to know a bit about you.
Smitha: Hi, I'm Smitha from Bengaluru. Personally, I love listening to old songs and be more into traveling. Also, I like sharing my travel pics on my social media platforms. 😀
I decided to learn more about social media and pursue digital marketing certification from Digiperform Malleshwaram. 
After certification, I got appointed by Silver Feather Infotainment for the position of Social Media Specialist. 
Now, I officially know how I can promote myself as a brand. It's the best part of this job. Yayy!
Digiperform: What originally attracted you to choose digital marketing as your career?
Smitha: As I was saying, I was looking for various ways where I could learn how to promote social media accounts. Even, I noticed that Facebook show your account as a "Sponsored". This triggered me. Then, I made my mind to definitely learn about it. 
Then, I researched it and realized, in digital marketing, you could learn all about social media. You can learn how to create your business account, create Facebook/Instagram ads, rank on top on Google page searches and grow your business simultaneously. 
There is so much to learn in this industry. It's so creative and amazing. Anyone would love to be part of it. It has huge opportunities. 
So, I made my mind to choose a career in digital marketing. 
28 Full-Time Job Roles Available in Digital Marketing. And, I have chosen Social Media Marketing.
Digiperform: What exactly that makes us stand out from the competition & urge you to choose us over others?
Smitha: First thing I liked about Digiperform that they discussed my plans point to point.
They were not like creating puzzles. My counselors kept it simple and precise about the course, how it's going to help me to reach my career goal and how Digiperform would play the role. 
Their practical approach made me feel very thankful that I joined this institute. 
You guys are awesome!
Digiperform: Tell us about your favorite experience you had with us, whether as a learner or as a customer?
Smitha: I loved interacting with our trainers and faculty heads. They are a super cool duo. 
Also, I liked our training sessions where we used to discuss the real marketing scenarios.
Like at one instance, we were assigned of roles like Influencer, Entrepreneur and Digital Marketers. 
We did a role play where Entrepreneurs sat with digital marketers to design the next coming campaign for their XYZ company and how approaching influencers could help them to promote their products. 
It was a mix of all the approaches that really helped us to understand the real scenarios of working in a company. 
I really enjoyed it.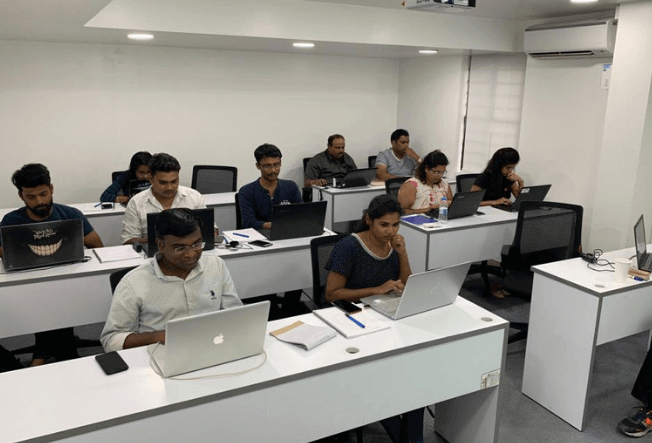 Digiperform: Would you consider Digiperform as a trusted & reliable resource for Digital marketing training? Why?
Smitha: Oh Definitely. Digiperform is the best when it comes to training. It is a reliable source to learn digital marketing
Digiperform: If you were to review our training program, what score would you give it out of 10?
Smitha: I would give, 9 out of 10 to Digiperform. And, the other 1 point I am keeping for my dedication. 😀 
Digiperform: Where do you see yourself in the next 5 years?
Smitha: I would like to see myself as Digital Marketing Head in top MNC in the next 5 years.  
Digiperform: If you had a piece of advice to someone just starting out, what would it be?
Smitha: Just believe that everything is possible. All you need is to gear up and start planning about your future. 
Digiperform: Finally, Describe Digiperform in one line.
Smitha: Good place to learn digital marketing
Digiperform: 
Thanks, Smitha for sharing your valuable experience with us. We really wish you good luck with your first digital marketing job.