#TraineeSpeak
In our trainee speak section, we have got in touch with one of the recently certified students of Digiperform Nirman Vihar, who is currently working as a Digital Marketing Freelancer.
Meet Digiperformer Sumit Pundir who is currently handling a freelance project of Dr.Bizz.
It's a business consulting and a problem-solving company that helps organizations benefit from the wise usage of resources, integration of analytics and innovation for strategy creation, and decision making.
We decided to give him a phone call to know more about him and asked about his digital journey, how it got started, what motivated him to learn digital marketing, and how it has been going so far. And, the conversation was splendid.
Here's is the transcript of the conversation we had with him, summarized in a short way.
Digiperform: Hi Sumit, How are you? First, congratulations on getting digital marketing certified. You look amazing in the picture. We just want to know a little bit about your background. We heard you have a blog too. Please share about it. 
Sumit: Hi, Thanks for the picture. I especially wore my convocation dress on the certification day to get the feel. hahaha.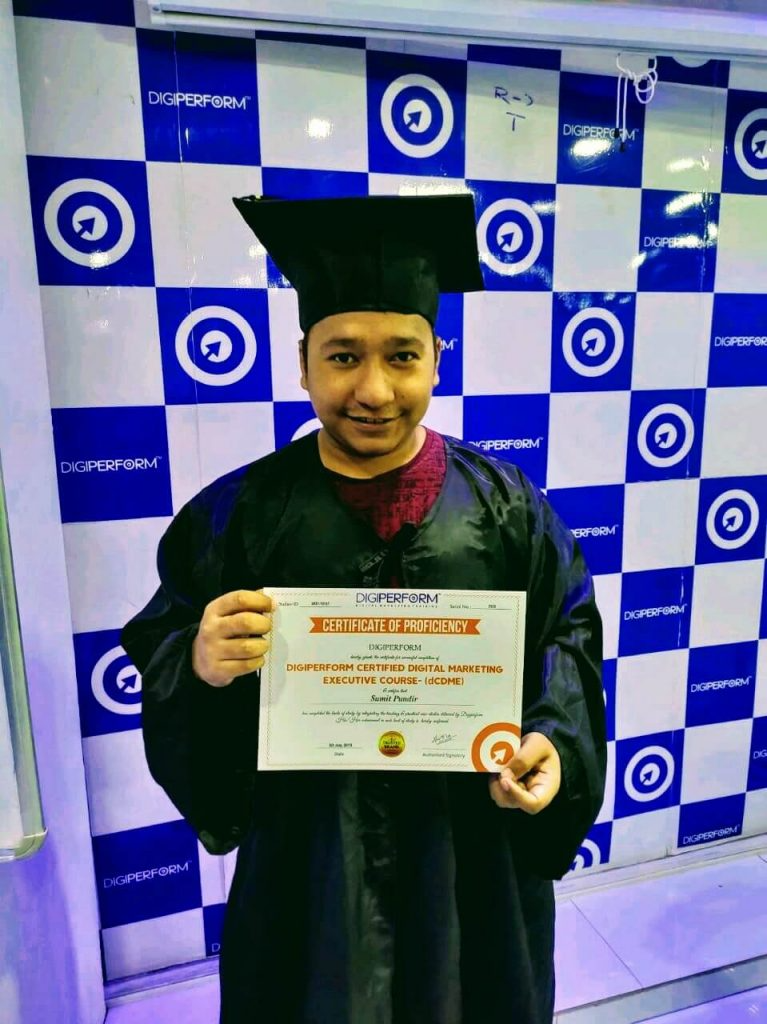 I have completed my graduation in BBA from IP University. Yes, you have heard it right.
During my graduation days, I had a passion for writing and got to know about online blogging.
Therefore, I decided to try my hand in blogging and started my own Bollywood & Lifestyle MujhsePoocho.com.
Actually, I was a movie geek, so, I used to write about the latest Bollywood movies and songs.
Even, one of my posts, "Top 10 Garwali songs for 2018-19" is ranking as number 1 blog in Google. 
😀
Digiperform: Wow, that sounds so good. So, how come you decided to learn digital marketing. Did someone shared to you about it or it was your idea only?
Sumit: It was my idea only. Once I completed my graduation, I decided to take my blogging passion to the next level and came to know about Digital Marketing.
I realized that by learning digital marketing, I could not only learn about how to earn through my blog, but I could also learn about running my own ads on Google. It felt amazing.
Therefore, I opted for a digital marketing course, joined Digiperform and successfully completed my certification. 
Digiperform: That's really good to know. So, what kind of projects you are handling now and for which company. 
Sumit: Yes, today, I am using all digital marketing strategies to grow my blog that I have learned during my training sessions and also have started taking freelance projects.
So, you can basically call me a Digital Marketing Freelancer. hahaha this sound so cool. 
Currently, I handle a project of the company called Dr. Bizz and manage their social media pages as well as SEO ranking.
Basically, I oversee all the digital marketing requirements of the company, from blogging to SEO, social media optimization to ORM, everything. 
Digiperform: Would you consider Digiperform as a trusted & reliable resource for Digital marketing training? Why?
Sumit: Yes, definitely.  I am thankful to Digiperform for guiding and mentoring me on how to advance my career in digital marketing. I am glad that I have chosen Digiperform. I would recommend the same to my other fellas too. 
Digiperform: Where do you see yourself in the next 5 years?
Sumit: I would like to have my own digital marketing firm one day. Fingers crossed.
Digiperform:
Thanks, Sumit. It was great talking to you and sharing such valuable thought. We wish you good luck with your future endeavors.