Facebook is said to be one of the pre-eminent platforms for advertisers to explore in. Currently, Facebook consists of 4 billion advertisers who are active. Since Facebook is a family of 1.28 billion monthly users, you can assure your brand to find the right audience irrespective of the niches you are working in.
Unlike other SEO strategies including content marketing, automated Facebook advertising provides some remarkable results within no time. Your cost per acquisition will be no harm to the company if you know which ad of yours is going to perform the best.
Instead, you may fill your brand with a whopping profit. The key is just the right advertisement. Facebook has now been therefore used by companies availing of digital marketing services to the clients for getting commendable results.
WHY AUTOMATION?
What do you expect your efficiency to be without automation if you have multiple campaigns running side by side? Well, you might be checking into the campaigns every single day and making several adjustments. There is a lot more to do than checking into campaigns.
Rather than being completely frazzled, save yourself by connecting with Artificial intelligence. Save your bucks and time with automation tools which are now used by companies providing social media marketing services.
So, study about these specific AI tools for your automated Facebook advertising.
REVEAL BOT
With the help of AI, Reveal bot is so far successful in delivering live updates regarding ad campaigns. Completely integrated with Slack this tool generates impressions, clicks, view reach and determine the progress of the brand over a period of time whether it has increased or decreased. Whenever your ad starts decaying, you can simply pause it.
The sooner you take steps, the more money you can save. It is better to terminate what's cutting your brands' image. Data visualization is better used by Reveal bot. To justify the statistics, it uses the graph feature.
You can compare the 2 metrics from your campaign and determine the current situation of your brand without wasting time by reading the long and mainstream reports.
ZALSTER
By its worldly-wise algorithm, Zalster is able to optimize the bids, budgets and ad creatives to produce the magnificent results. This AI tool is best for automated Facebook advertising replacing the human imprecision.
Talking about the features of its application, using its dashboard you can discover the live status of your ads. Do not blow up your bucks unnecessarily on the tools which are taking you nowhere.
Zalster can turn out to be a very wise investment as you can run split tests where you may find the most effective ad with low-cost acquisitions. This can save your brand from money drainage in the future. It can save your image in the market and even aggrandize it.
REFUEL4
There is no guarantee of your ad campaign running forever and that too generating the better leads. There comes a point when everybody gets bored of acknowledging the same ad over and over again. That's when your ad starts to falter.
ReFUEL4 with the help of AI analyzes when your ad will start to dip and before it starts suffering from ad fatigue, it will be replaced with a brand new ad. It includes a wide network of freelancers pro in ad creatives.
So as soon as the ad starts to dip it will be replaced by a fresh ad without having you to do anything. But the pricing for such comprehensive tools starts at $1000 per month. So, if you have some large-scale investment, go for ReFUEl4.
AI TARGET
If you want to scale up your brand from $25,000 to $400,000 then AI target suits you. It manages and optimizes the Instagram and Facebook campaigns.
AI target can effortlessly run the complex campaigns comprising of numerous locations, audiences creatives. It scales up the bidding, budgets and ad creatives very well. The features of its application may allow you data integration as well.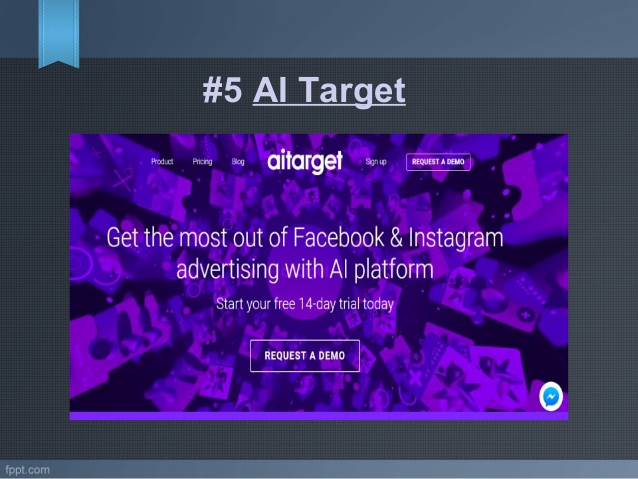 The best part of AI is the support team answers the marketing and technical questions smoothly and expeditiously. All your queries are properly addressed. It also works for intricate international campaigns where measuring ROI is problematic.
TRAPICA
This Artificial Intelligence tool easily optimizes the campaigns over numerous social media platforms including Facebook. The moment you connect with Trapica, it starts searching for the non-working pieces of the ad campaigns and joins them with a feasible and affordable solution in terms of targeting and bidding adjustments based on real-time learning.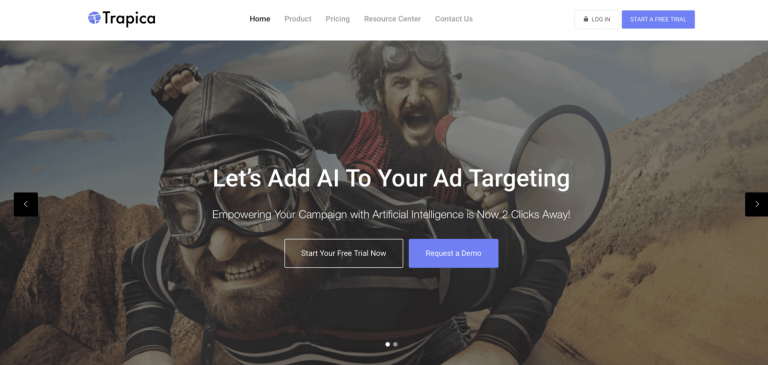 Trapica uses the conversions to know about the customer's behavior, interests, needs, demographic locations and adjust the campaign accordingly. Overall, the tool is suitable both for a newbie and social media marketing experts to get the maximum out of this artificial intelligence tool.
CONCLUSION:
The future is AI and its usage will only contribute to improving the efficiency of the ad campaigns with better targeting. If targeting is not done, then even your best preparations are going to suffer the most.
These AI tools are effective at depicting the status of ad campaigns. So, try these automated Facebook advertising tools for better results.