With the rise of smartphone ownership globally in 2018, India will have more than 500 million smartphone users where China will have the highest number of smartphone users up to 1.3 billion followed by the US as third with 229 million users. There are about 650 million mobile phone users (using all types of mobile phones) in India where just over 500 million of them have smartphones and internet connectivity, confirmed by the Internet and Mobile Association of India (IAMAI) and Kantar IMRB.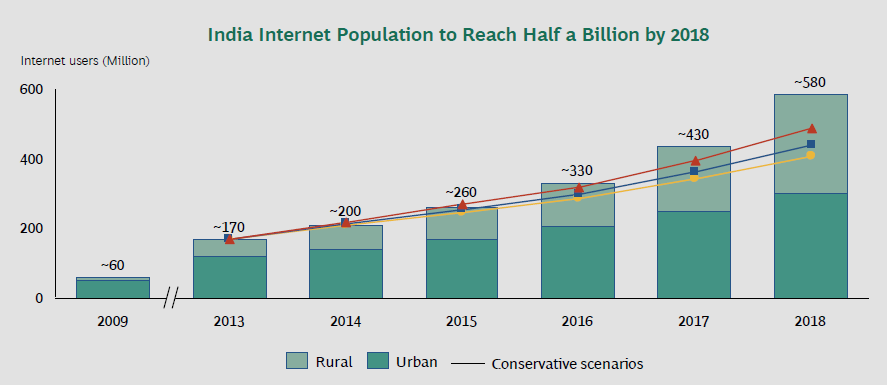 Worldwide, more than 50 percent of the world's population owns a mobile device from which nearly 75 percent of web traffic originates on those mobile devices. Mobile commerce or M-commerce is riding on the wave of smartphone penetration in India. In recent years, e-commerce has taken the World by storm by changing the way we do shopping and online ordering. M-commerce being a newer avatar has further accelerated the pace of growth in online ordering segment considering the usage of smartphones.
With e-commerce and m-commerce working collateral, the World has opened up for both – buyers and sellers. Even sellers who started leveraging mobile platforms have seen their fortunes changing as business gone up multifold. One should go with the trend and the trend has immensely shifted towards the m-commerce. Let's read more what is m-commerce aka mobile commerce all about. How can it benefit in future?
What is Mobile Commerce?
Mobile commerce, also called
m-commerce
, is an advancement of E-commerce that enables people to buy and sell products or services and includes monetary transaction completed using mobile devices such as mobile phones or tablets.
With the increase in popularity in e-commerce in earlier decades, it seemed admissible that mobile commerce would be adopted early than expected. Earlier the smartphones were only used for internet browsing, navigation, research, however now it has become the most popular and easy medium of shopping. The e-commerce giants are keen to tap this growing shopping potential and have already launched mobile shopping apps to extend help to mobile internet shoppers.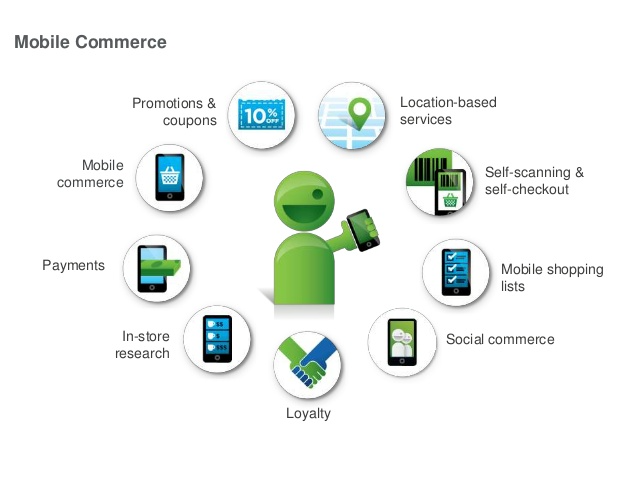 Mobile Commerce Trends has also served as a trigger for new industries and services or helped existing ones grow, including:
Mobile money transfers.

Electronic tickets and boarding pass.

Digital content purchases and delivery.

Mobile banking.

Contactless payments and in-app payments.

Location-based services.

Mobile marketing, coupons, and loyalty cards.
USPs of M-Commerce:
SEO BENEFITS
– You can also use app indexation tags, letting users download the dedicated app straight from the search results (like Uber has done), or assign the URL schemes within deep app pages, etc.
MOBILE SEARCH EXPERIENCE
– M-commerce pays particular attention to a search box. Convenient on-site search options help users find the desired product easily, avoiding the need to scroll through the pile of irrelevant pages.
TIME-EFFICIENCY
– If customers decide to make a purchase directly through an app, it will take them on average 150% less time as opposed to using the desktop version.
PUSH NOTIFICATIONS
– Push notifications are astoundingly more effective than emails. They are instant and difficult to ignore when popping-up on a phone screen. This feature can motivate the customers to be more loyal and provide one more level of engagement.
Role of M-Commerce in E-commerce:
M-commerce has been gaining popularity with time but still a vast majority of e-commerce owners and retailers are unaware of its tremendous influence. They are still juggling with marketing strategies to create awareness and popularity of their online stores. India's retail e-commerce sector is small but still growing.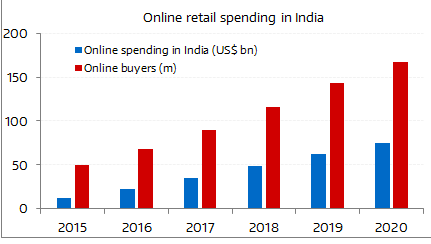 By 2020, e-commerce sales are expected to total $79.41 billion.

Mobile's share of e-commerce continues to grow. In 2016, m-commerce sales will total $15.27 billion, making up 65.3% of all e-commerce sales. Those figures will rise to $63.53 billion and 80.0% by the end of the forecast period. Smartphone with the wider adoption of 4G-capable devices and service plans are booming and quite responsible for this growth.

Complicated regulations have resulted in the dominance of marketplaces over inventory-model e-commerce sites in India—with Flipkart, Amazon India, Snapdeal and Paytm among the platform leaders. However, the sector is likely on the verge of a wave of consolidation, and Alibaba's expected entry to the market will have a significant impact.

E-commerce in India stands out in terms of how common cash on delivery (COD) is as a payment method. However, mobile wallets and other payment systems have the power to displace COD and have been winning hearts as well with so many cashback offer and feasibility.
Case Study 1:
There are are many companies who even decided to follow
App-only E-commerce model
in India, for example,
Myntra
.
Bangalore based – Myntra, India's leading fashion and lifestyle e-tailer, brought back its mobile website which it had discontinued in May 2015. Nearly 90% of traffic and 70% of the company's business was happening through its app which led Myntra to take a major step on the solo route of app-only. Myntra claimed to be the first and topmost web-based e-tailer to adopt an app-only model not just in India but globally.
Myntra launched a new version of its app that allows users to connect with each other for sharing opinions on products, trends, preferences and so on. Every Myntra app user now sees a different landing page based on previous visits, preferences and other social media plugins like Facebook. Myntra, which has close to 20 million app downloads and 7.6 million active customers, offers over 230,000 products from over 1,700 national and international brands. It also has around 10 in-house brands. The firm currently has an annualized gross merchandise value (GMV – the total value of sales on the platform) of $500 million. It is looking to cross GMV of $1 billion and also become the first major Indian e-tailer to turn profitable in 2016. By 2020, the target is to cross $5 billion GMV.
App-Advantage:
App only strategy is quite innovative but gutsy move by Myntra notable given to its scale. Apps, of course, come with a long list of advantages for both the companies and customers such as personalization, better user interface, superior customer experience, ability to easily connect anytime and anywhere, rich customer data and so on.
Case study 2: Paytm
Today Paytm is a market leader in both recharge and mobile wallets. It also provided various other facilities like online booking of movies, bus tickets, online ordering payments, wallet money and many more. In case of recharges, they had several Incumbents Like Overcharge in the market. They concentrated in providing as many recharge options on the site and focused what a user really wants.
When a customer lands on website or app, he looks for easiest ways to recharge with offers with proper detail or cash back. Most people follow same recharge amounts over and over again as per their usage, for example, these days youngsters are more into Rs 499 prepaid recharge where they get 1GB of data each day with unlimited outgoing for 3 months. These types of recharges last and beneficial for a long time period. Therefore, the app also gives the remainder of the same whenever the recharges are about to expire- just for better user experience. These quick bites only come handy with mobile devices. They have realized a lot of users requested how to keep the money so that they can do repeated recharges without entering bank account details over and over again.
Paytm do 400,000 orders per day, which is the second highest number of Internet transactions. Their core strength is only – the mobile. More than 50% of the orders are through their mobile app and mobile site, making them the largest mobile commerce platform.
Conclusion:
India is sitting on a goldmine of online shopping which is quite accessible to many people at attractive prices through the handy platform – mobile. M-commerce is ready to be explored with its unique characteristics of selling the variety of products giving brand shopping in India a new shape and meaning. India is also investing in the internet infrastructure which will help users to explore more in the internet world with the advent of new technologies like 4G finding users in India.