Every Startup has a different story that captures the risks, challenges and human efforts to turn big dreams into products and services that make the world better. And, in
DigiTalks By Digiperform
, we believe to share these stories with our trainees and readers to help them follow their entrepreneurial dream. In this industry speak, we are introducing you to the Founder & CEO, who has been into various industries and currently helping new brands to fulfill their big brand dreams. Meet
Deepak Sharma
, an entrepreneur, consultant and founder of a marketing company,
WithStartUps.com
.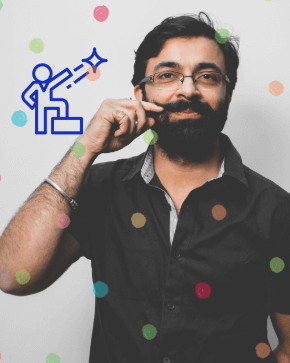 In this segment, he has shared about his professional journey, the foundation of his company and current projects he is managing. Here is the transcript of the conversation we had with Deepak. Have a look!
Digiperform: Hi Deepak Sharma. Briefly share about yourself, your hobbies, likes or dislikes, previous experiences…..etc. in your words. 
Deepak: Hey, First I would like to thank Team Digiperform for giving this opportunity. I & My whole team of WithStartUps is thankful. 
Talking about me, I have been in lots of industries over the years. Starting from merchant ships and then moving on to technology and marketing.
I have worked in diverse sectors that have allowed me to view any problem from multiple angles.
These days, I am building a cloud server management platform (InfraGuard) and creating a top-notch digital marketing team at
withStartups.com
Digiperform: Please tell us about WithStartUps.com. Also, share the foundation of the company? How it got started? What type of services you provide?
Deepak: WithStartUps.com actually started as an entrepreneurship blog where I would interview emerging founders from India like you have been currently doing. ROFL!
Over the years, as I started going deeper into digital marketing and growth hacking, the website too molded into something bigger.
Today, we are one of India's top digital marketing companies working with everyone from large brands to smaller startups.
Our core differentiators are Influencer Marketing & Celeb Endorsements on one end, supplemented with the more stable services of SEO and Social Media Marketing on the other end. 
Digiperform: You have shared the profiles of your team on your website. No doubt, you have an amazing team. Please tell something about your team? 
Deepak: We have an exciting young team that is growing rapidly.
As a company, we took a conscious decision to hire people based on skills as well as a long term vision.
As a typical startup, everyone in our team is multi-tasked.
We have people who are Google, AWS, and Azure certified. 
Digiperform: Knowing your high professional activity, how do you combine your agenda to fulfill the tasks as a marketer, consultant, and entrepreneur?
Deepak: To me, the critical skill for any entrepreneur is Time Management.
It is easy to get lost in the work if you do not structure your daily tasks. I am a big believer in planning the week beforehand and setting up automated task tracking as much as possible.
Of course, being able to delegate the work to a skilled team helps a lot.
We tend to divide our work into weekly and monthly targets.
That structure helps everyone to stay focused and also correct if we feel that any particular task is getting delayed. 
Digiperform: Digital Entrepreneur. Today's millennial entrepreneurs consider themselves a Digital Entrepreneur? What is your point of view on that?
Deepak: The world has gone fully digital so I agree with this term.
Any entrepreneur, even if he or she is operating in a traditionally offline industry, has to be digitally savvy.
Even a few years back it was unthinkable to be able to launch a startup and get access to an audience of millions.
Today, this is fairly easy. Even in our team, we often do internal projects where we do a full concept launch of a website and social media within a week. 
Digiperform: How do you see digital marketing evolving in the future? What are the top three trends do you foresee for the coming year 2019?
Deepak: Digital will become the mainstay of marketing.
Every brand will have to understand that this will be the primary customer acquisition channel.
In 2019, the trends of  Influencer Marketing and Videos will keep occupying the center stage.
With the internet being freely available (credit to Reliance Jio), India is seeing a huge change in media consumption pattern.
New influencers are coming up and video creation is getting easier.
The third trend I would forecast is traditional – I would say that SEO will see a resurgence.
Brands are realizing that this channel simply cannot be ignored. 
Digiperform: Being a founder of a digital agency, you must have handled different kinds of projects. Tell us something about the projects you have been doing or completed so far? 
Deepak: We do a lot of projects at any time. Something that we are particularly passionate about is the new brands that we have launched.
One of them is withWeddings.com that is focused on the wedding segment in India – brides, fashion & lifestyle.
It is picking up and getting a huge engagement.
Another one is theIndianbeards.com, this is focused on the Men's fashion segment.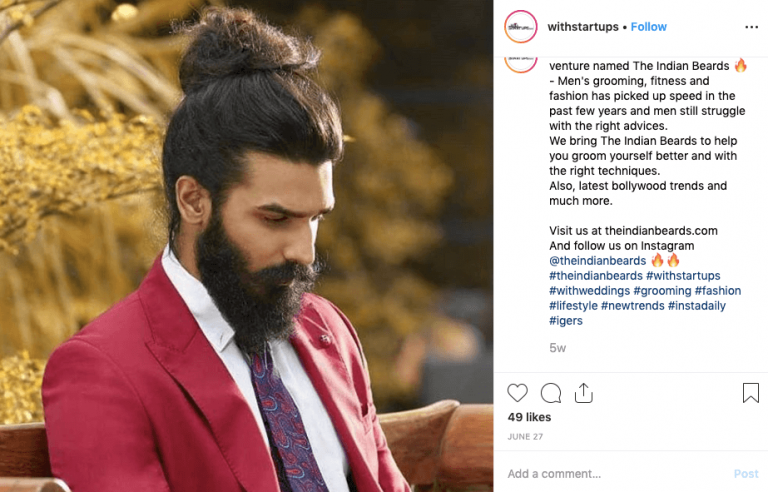 Digiperform: What makes WithStartUps – the Leading Digital Marketing Agency in Delhi NCR?
Deepak: We are completely transparent with the client. We do not overpromise and are fully data-backed.
Every week, we send sophisticated reports that ensure that everyone is on the right page.
This combined with an extremely skilled team ensures that we create long term relationships with our clients. 
Digiperform: According to you, what are the various ingredients for a successful digital marketer and entrepreneur?
Deepak: You must have a clarity of vision.
Do not change your goalposts, as an entrepreneur or as a digital marketer.
Have a clear aim, and then figure out how to achieve it.
There will always be problems and there will always be excuses. It is up to you to find the solutions. 
Digiperform: Any suggestion you would like to give to our readers and students who want to make their career in digital marketing?
Deepak: Yes, get as much practical experience as possible. The theory is one thing, but actually doing the stuff is quite another.
These days it is extremely simple to set up a website and a social media page.
Create your own brand, and implement what you learn.
This will make you much more ready to face the challenges of the real world. Plus, you will create a provable project to show to employers.
Digiperform:
Thank You! Deepak for sharing so much with us. It was great knowing you and your company. We wish great luck for your future endeavors. Stay connected. Ou readers can also connect with Deepak and his company by following the below links.
Website –
https://www.withstartups.com/
Facebook –
https://www.facebook.com/withstartups
Instagram –
https://www.instagram.com/withstartups
Linkedin –
https://www.linkedin.com/company/withstartups-com/
Pintrest –
https://www.pinterest.com/withstartupscom
Twitter –
https://www.twitter.com/withstartups
Youtube –
https://www.youtube.com/channel/UCv3UV7At-lAM2j6my9MC8BA