Sneak Peak:
Read this cover story to know how Dhruv Shingri, who was fired from a company in London at one point of time while working as the COO, launched Yatra.com that went on to become the leading online travel portal in India.
Company:
Yatra.com
Industry:
  Travel
Tool Used:
Online Marketing
Result:
­ the travel portal became the number one travel website
Business Type:
B2B/ B2C
The Brand & the Story
Started with just 3 members in 2006, Yatra.com leading online travel portal now have over 1000 employees in India based in Gurgaon. Whether it is air tickets, hotel rooms, holiday packages or buses & car rentals, the travel portal caters to all the travel needs of its customers. The online travel company at present provides reservation facilities for over 500,000 hotels across the world with more than 50,176 hotels in India itself. It closes a large number of dealings every day that including 20,000 domestic tickets and 7500 hotels & holiday packages a day. Talking about its inception, the company was not an intention but only an option for its founders at that time. The co-founder of Yatra.com, Mr. Dhruv Shingri was fired from Ebookers in London in June 2005 while working as its COO as the company was bought by another company Sedan which bought its own management team.
Words by Dhruv Shingri on his firing (Source: India Today)
"I left Ford to work with eBookers, a small online company. I worked there as the chief operating officer of the company. In two and half years, we managed to sell eBookers at a price of $400 million to a company called Sendan."  "As luck would have it, I was fired from the company post-selling as Sendan brought their own management team. The joy was short-lived thus."  "In UK when you leave a job or you are fired, you go for a leaving drink. After going high, some of us decided to come back to India to start Yatra."
Dhruv and two of his colleagues from Ebookers Manish and Sabina who were working together in the company from the year 2000-05, decided about launching an online travel portal, the online travel industry was on rising that time. It was then when yatra.com took birth.
A quick look at milestones the company has reached
With over 31,538,129 travelers as its happy & loyal customers, yatra.com provides reservations for 50, 176 hotels in more than 500 destinations in India and 430,000 hotels worldwide. Achieving a volume of over 6,500 air tickets and more than 300 hotel room nights booked per day, the company generates average revenue of Rs 100 crores a month. With over 80% of bookings coming from online media and rest 20% coming from the call centers, yatra.com books over 20,000 domestic tickets and 5,000 hotels per day.
Marketing & Advertising: The Journey Covered!
In the beginning, with an intention to have widespread advertising and cover almost all kinds of consumers, the yatra team made use of traditional marketing mediums for generating awareness about its business. At that time not everyone was well acquainted with internet services through everyone was longing to have a world where things could be made available to them even when they were on their move or even when they didn't want to move and that was only possible online. After print media, the company turned to TV advertising for increasing brand awareness. The travel company endorsed Boman Irani as its first brand ambassador and Salman Khan as its second brand ambassador in the year 2012.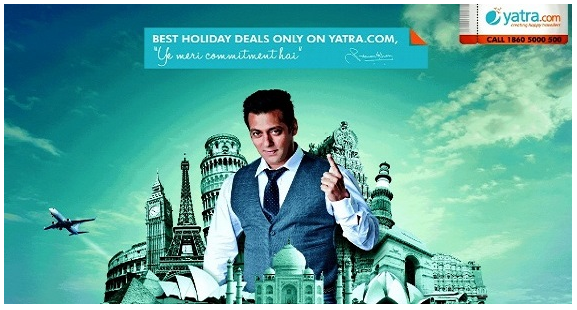 Celebrities have always been great
influencers
for the masses and that it helped the online travel portal enormously increasing the customer base for the company. However, looking at the increasing ubiquity of the internet, the company with a farsighted vision was at the same time was working on online marketing as well and performed various internet marketing tactics that included Google AdWords.
FYI:
Apart from being the brand ambassador Salman Khan is also a shareholder in the company.
In April 2014, Yatra.com went on to become the Official Travel Partner of IPL Team Rajasthan Royals.
Moreover!
 "Yatra.com generates almost INR 1.5 million/month only through Facebook Marketing!"
Starting around the "Happy Travelers" theme, yatra.com's Facebook company page includes snaps of its happy customers. The company abides by the
social media marketing
guidelines religiously and makes sure that no customer query is left unanswered. The social media marketing team at yatra.com ensures a well-timed response for all the customer queries while posting special offers & promotions at the same time as well as hosting various apps including the "Happy Travel Jigsaw" that allows fans to solve puzzles making it more engaging. To add more to the branding and loyal fan base, the online travel company also made use of Facebook advertising. With the help of various targeted Facebook ad campaigns, the online travel company generates INR 1.5 million/month only from Facebook advertisements.
Words by Dhruv Shingri, Co-founder & CEO, Yatra.com (Source: India Today)
"Entrepreneurship is a state of mind. You can be an entrepreneur even when you are working for others. What it means is your ability to take initiatives and grab small opportunities which can give bigger results." "Let's take an example of Bollywood. When we were growing in 80s and 90s we saw heros running around from office to office for jobs. No Bollywood movie shows heros struggling for a job now. That's reflects a big change in society."           "Don't be afraid of taking risks because without taking risks, you never know what lies ahead." "The slowdown will make people work harder as I believe people in India are taking their jobs for granted."  "We are having a once-in-a-generation opportunity. Our parents didn't have it, our children won't have it. This era of high growth will not be there forever. You need to capitalise on things and you can sit idle."