Facing difficulty to Doubble your Search Traffic. Don't Worry. Here in this article, we have 3 Advanced SEO Techniques That'll Double Your Search Traffic in no time.
Do you know that? 
According to Forbes, 93% of all online experiences start directly or indirectly through a search engine

According to business insider, 39% of all global eCommerce traffic comes directly from the search

As per the stats on higher visibility, 67000 searches are performed every other second on Google
Why am I telling you all this?
If you want to double your website's traffic, and be on the top ranking of search results;
revive your SEO techniques now
. 
In this rapidly changing world, SEO techniques and strategies can entirely change in a day.
The worst part is that you might not even know it. SEO techniques like using Meta keywords, relying on H1 tags for higher rankings, spamming on emails & forums, creating pages for bots, etc. are outdated now. 
You will inevitably fail to meet your goals if you only use these Stone Age techniques in today's era.
The methods you used back in 2016 to be on a front-page result are not going to do wonders for you in 2019/20. They are not only obsolete but will even hurt your website's ranking.
That's why you need to stay up in your SEO game.
Duane Forrester, Senior Product Manager, Bing states
,
"On a broad scale, I see SEO becoming a prevalent and normalized marketing tactic, the same way TV, radio, and print media are traditionally there as marketing tactics."
Remember, advanced SEO techniques are more dependent on good content.  Now it's more critical than ever to deliver high-quality services for businesses to maintain a good rank on the search engine.
The entire internet world has dynamically shifted from simple algorithms to Machine learning and AI-based techniques. That's why SEO will always be changing, and we must follow the latest trends.
In this article, we will be discussing three advanced SEO Tools and techniques that are essential in today's practical world. So, let's begin.
3 Advanced SEO Techniques That'll Double Your Traffic
1# You can't ignore "Google RankBrain."
RankBrain was introduced back in 2015 by Google. It is the third most essential factor for improvising search-related queries. RankBrain works with the help of AI and machine learning for Google to process search results. Moreover, it provides the most relevant search outcomes to its users.
It analyzes the user's search behavior, engagement, and interaction as critical factors. 
How Google RankBrain Impacts SEO?
If any specific website is not present in the top search results, but if the user selects any website before or after it, RankBrain will automatically boost its rank. 

Similarly, if the user doesn't get its desired content from the top search result and immediately bounces back to the result page, then RankBrain will notice it.  And will boot the website from the top ranking.

RankBrain notes down the amount of time any person stays on the webpage. This is known as "Dwell time."  Along with this, RankBrain also notices the time the visitor visited the page, the time the user closed the page, and the tenure the user was active on it. These are all noticeable parameters used by it for ranking a website. 
Fact Alert!!!
The average Dwell Time is 3 minutes and 10 seconds for a website to be on the top 3 rankings of search results.
How Google RankBrain works?
It analyzes Keywords by predicting the user's intention. It does not rely on the matching of a text string; instead, it tries to figure out what you mean in a query.
Let's have an example: 
Suppose you write the following five search queries:
Best Astrophysics books

Best books on Astrophysics 

What are good Astrophysics books? 

Good Astrophysics books?

What to read on Astrophysics?
RankBrain knows that all these queries are looking for the same things. The user's intention is,
"I want to know which books on Astrophysics are worth reading right now."
RankBrain can form the most suitable concepts out of keywords and find the best pages. Now you know how RankBrain works to give you the best possible results.
How to optimize your Website with Google RankBrain?
RankBrain re-adjusts the overall SEO strategy by providing the most relevant and top-notch quality to the users. You need to acquire some tips and tricks for it while devising your content.
Keep in mind the following:
RankBrain has shifted the dynamics to

create content by having humans in mind

rather than the search engine. It succeeds in this plan by grouping the keywords, key phrases, common misspellings so; it can use them to show the most identical search results.

Optimizing for long-tail keywords is outdated now.

Use medium-tail keywords

instead. 

Neil Patel

suggests

using a click-through rate (CTR) method

to make your website RankBrain friendly.

Write a

compelling headline and a description tag

to make the users curious to read the blog. It will help in popping up your website's title and meta-description both. 

Write your

blog posts with higher emotional value

so visitors can relate to them. Use the powerful target keywords, action words, etc. to show a quick pitch.

Add brackets in titles

naturally.

Studies

suggest bracketed titles work 33% more effectively than non-bracketed titles.

Add numbers in your titles

and sub-headings to improve CTR.

The best-preferred

word count of Blog posts

for Google RankBrain is

1000+

.

Add some facts, infographics, and video links, to make the content more useful and increase user engagement. This way, people tend to spend more time on your website.

Break your entire content into

smaller, easier-to-understand, readable chunks

. Use shorter paragraphs in your content.

Update your old content

from time to time. It is an easy way to create more content in less time.
2# Infographics play an important role in engaging the audience
Infographic is amazing, the most shared, and liked content in the Web world these days. According to Hubspot, in the last 3 to 4 years, Infographics have been considered the best-performing digital content. 
They are popular among the audience because of their ability to make complex data easy to understand. Moreover, infographics give a new life to boring data by incorporating colorful icons, charts, stats, graphs, etc. 
There are some online Infographic makers like Visme, which also shows you how well your content is performing by its analytical tools.
How to create Infographic for your content?
Find the right kind of information
No matter how attractive or good-looking your infographic is, if it doesn't talk about any trendy or inspiring information, it's useless. You also need to create content from scratch. It should depict originality and uniqueness. 
Determine your target audience 
You must decide your content's tone, message, and theme concerning its target audience. 
For example, if you are targeting teenagers, then you can't use a grave or serious tone. 
Are you getting it? 
So, before starting, ask yourself why I am making this infographic? Whom do I want to communicate it? The answers will help you to come up with the best possible prediction.
Write a Compelling Content 
Write such content that engages your readers from start to finish. The visualization and content work together as a map to make the audience curious and make them want more. Remember, the content should have clarity of the message, too, along with curiosity.
Finalize your visual approach 
Define your final visual approach. It includes the theme, color scheme, and any format which you will follow. 
For example
,
if you create an infographic for a blog on moms and babies, it should be a playful one. You may create a colorful and attractive flowchart design for it instead of a sleek and mixed-chart infographic. You can design something like the one given below:
source
Another example mentioned here is an infographic made for a
leather skin shop
. It depicts their products along with combinations to attract and engage the audience. 
source
Now, start your infographic design. You may hire a designer or do it by yourself. 
If you are opting for DIY, use Adobe Suite if you have graphic designing skills. Otherwise, use free infographic makers online like Visme, Canva, etc. It saves both your time and effort both. 
Make sure you haven't made any grammar or spelling mistakes in content.  

Cite all your sources if you have added any stats and facts. 

Make the call-to-action part prominent while designing. 
How to optimize infographics for SEO?
Step # 1: Find your Optimization Keyword
Your infographic content should support a single keyword or a keyword phrase. So, when someone searches through that keyword or a phrase, your content comes first. '
Pro-Tip
It's essential to identify specific keywords before you start writing compelling content for your infographic. It should be relevant, easy to understand, and should come naturally within your content.
Step # 2: Optimize your Infographic for SEO 
After this, start optimizing your infographic for SEO. 
For this, you must know where to add the keyword in your infographic's content. Keep the following points in mind.
URL

: The most relevant phrase considering your content should be placed within your blog post's URL. You can't miss this step because it's essential for the search engine's ranking. 

Title:

Write a catchy and attractive title that includes the keyword.

Meta Description:

It should also be descriptive and has the keyword in it. 

H1 headings:

Add your keyword in the H1 heading and other headings

Image filenames:

The image filename should also have the relevant keyword in it. And don't forget to check the image's resolutions always. 

Image alt text:

Search engines can't read your images so, you must tell the search engines what it is all about. It is done through the image alt text. Make sure to add the relevant keyword in it too. 
For example: If you create an infographic about the best salons in Texas, write "Best Texas Salons Infographic" in the alt text.
Now start sharing your infographic, but keep the other factors in mind too, like including a decent amount of word count for content, optimizing your social sharing buttons, observing the load time, etc. And then wait for the infographic's massive impact on your website's traffic.
3# Mobile-First Indexing is the need of the hour 
When people switched from desktop computers to mobile devices like smartphones and tablets, Google also had to come up with a Mobile-first index phenomenon. Mobile-First index means Google includes the mobile version of your website in its index as a starting point.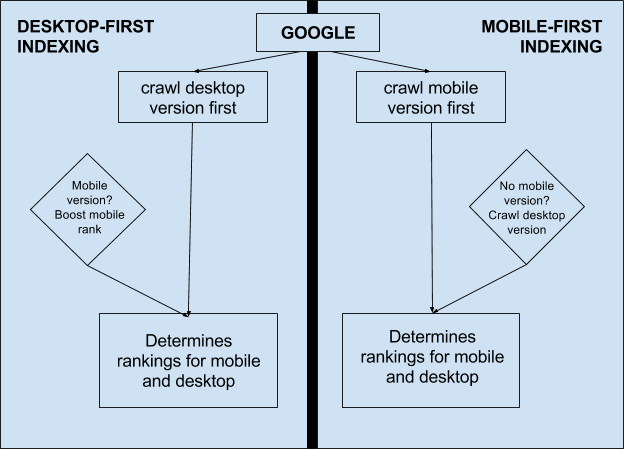 Source
For its importance, consider the following statistics by smartinsights,
How a Mobile-first index impact SEO?
The
mobile-first index impacts SEO
as it prioritizes mobile-friendly websites for ranking on search engines. It noticeably affects the position of your website in the search results. 
If you are not having a mobile version of your website, Google Robots won't be curious to visit the webpage. It may negatively affect the position of your website too.
If you have devised separate content for desktop computers and mobile devices, it means you can serve more audiences with different content. 
And it's just the tip of the iceberg; you will explore several benefits of mobile-first indexing as soon as you switch over it.
How to prepare your website for the mobile-first index?
It's preferred to improve your mobile version of the site, whether it's text image, description, etc. The standard should be better or equal to the desktop version.

Make sure that the "title" and "meta description" for both desktop and mobile versions are the same.

If you are using rel="hreflang" to cater to the audience with a suitable language version, make separate links for mobile and website versions.

To check the Website's server efficiency, use the Google Console. It provides the latest information about the activities done by Google Robots in the last 90 days. 

Some other tools to use:
Test Mobile Friendly

is a tool to check how much your website is mobile-friendly as per Google standards. 

Google Search Console

is also a remarkable tool to check the reports about subpages of your website. It immediately finds the source of problems and reacts accordingly.

Page Speed Insights

is also an essential tool that analyzes the loading speed of your website on both versions.
Conclusion
SEO is not all about the techniques mentioned above, it's a lot more than that. It's a vast ocean, and you may get your desired results from it based on your creativity and innovation. 
Remember one key rule '
stay updated with the latest trends in SEO'
. And you will always be on the top.  
So are you ready to amp up your SEO game and double your traffic? Get started now!!
Author Bio:
About Ashley Rosa:
Ashley Rosa is a freelance writer and blogger. Writing is her passion that why she loves to write articles related to the latest trends in technology and sometimes on health-tech as well.  She is crazy about chocolates. You can find her on Twitter: @ashrosa2.