Meet
Badarinath
from Bengaluru who got hired as a
Digital Marketing Executive
at
DigiMarket Solutions
just after completing his training from
Digiperform Malleshwaram
. (DigiMarket Solutions is one of the best digital marketing companies in Bangalore that provides end-to-end
solutions
for all sorts of online marketing services.) After his digital success, we decided to get in touch with him and congratulate him on his first
digital marketing job
. While congratulating them, we asked him how it feels to start his career as a digital marketer and why he decided to choose Digiperform as his mentor. Here's the transcript of the discussion we had. Have a look!
Digiperform: It's a pleasure to connect with you! Before heading further, we would like to know a bit about you.
Badarinath: Hi Everyone! I'm Badarinath from Malleshwaram, Bengaluru. I'm a graduate student who has big dreams and desires to fulfill. 😀
Adding to my qualification, I have completed my digital marketing course from Digiperform Malleshwaram. 
Currently, I am working as a Digital Marketing Executive at DigiMarket Solutions. 

Digiperform: What originally attracted you to choose digital marketing as your career?
Badarinath: I am the kind of person who believes to stay updated in all kind of current affairs and market scenarios.
During my graduation days, I have been noticing that the internet changing everything. 
From a student to working professional, from housewife to businessman, everyone is dependent on the internet. 
This made me curious. Yeah!
Therefore, I decided to make my career in the same.
Digital Marketing has lots of opportunities for newcomers. It's like a ray of hope for job seekers. And, after all, who doesn't want to be part of the trend. 
Digiperform: What exactly that makes us stand out from the competition & urge you to choose us over others?
Badarinath: Personally, I liked the way they welcome you during the counseling session. They pay full attention to your requirements and help you to understand the future aspects of the digital domain, properly. 
The company's commitment and passion for teaching Digital Marketing to everyone are worth to bet for.
And, your delivery methods are what that make you stand out in the competition. 
Digiperform: Tell us about your favorite experience you had with us, whether as a learner or as a customer?
Badarinath: I loved the training session. It was fun learning with such a mix-up group of freshers, professionals, and entrepreneurs.
Though little credit went to me as well as I had always attended the classes on time.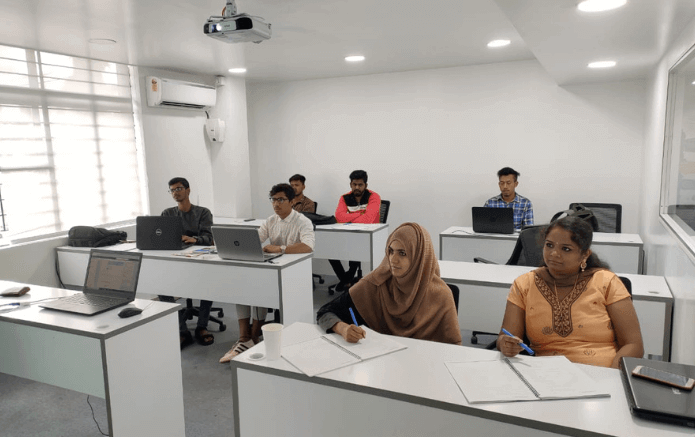 We were also provided doubt sessions whenever we asked. I remember, they even provided doubt session to a single trainee who was my batchmate.
Providing doubt session to a single trainee.
That's the height of commitment I would definitely appreciate a lot. 
Digiperform: Would you consider Digiperform as a trusted & reliable resource for Digital marketing training? Why?
Badarinath: Yes, I would consider Digiperform as a trusted source to learn digital marketing because of what they have delivered what they have promised.
Digiperform: If you were to review our training program, what score would you give it out of 10?
Badarinath: I would rate Digiperform Training 10/10. You guys deserve it. 
Digiperform: Where do you see yourself in the next 5 years?
Badarinath: Aha, where I see myself in the coming years. Hmmmm, well, I would love to be one of the Best Influencers of Digital Marketing.  
Digiperform: If you had a piece of advice to someone just starting out, what would it be?
Badarinath: Be open to your dream and desire. And choose the right mentor.
Like I did, I chose Digiperform.
Choosing the right mentor will shape your life in your way… 
Digiperform: Finally, Describe Digiperform in one line.
Badarinath: Join Digiperform to perform well in your career life… 
Digiperform:
Thanks, Badarinath for sharing your valuable feedback. Indeed, you will be the best influencer one day.