Once upon a time, successful marketing meant big-budget TV ads, humongous print campaigns, and radio promotions that would stick in your head for days. That does not happen anymore.
According to research, today, 22% of video consumption happens online, 57% of text consumption happens online and 67% of music consumption happens online. 
Digital is how the world leads today. It is no longer an alternate that businesses can choose to ignore. It is simply how marketing is being done. And there are tons of quality high paying jobs out there for the right candidate in this industry. 
According to Times of India estimation, there are 20,00000 jobs available in India, and Indeed.com records 250,000 jobs in the US. But the question arises, how to be a Digital Marketer?
To be a successful Digital Marketer, One has to have a sound understanding of the basics and all the Digital Marketing skills and how they work together. To understand that, one needs to first know what is actually Digital Marketing. 
What is Digital Marketing? 
Advertising that is promoted on the internet through search engines, social media, mobile applications, and websites is called Digital Marketing.
It is modern times marketing which is much different from traditional marketing as it enables a live analysis of campaigns.  
There are many aspects of Digital Marketing such as: 
Search Engine Optimization (SEO)

Content Marketing

Social Media Marketing

Pay per Click (PPC)

Affiliate Marketing

Native Advertising

Marketing Automation

Email Marketing

Online PR

Inbound Marketing 
What does a Digital Marketer do?
A digital marketer can choose from a wide variety of specializations such as SEO, including online searches that drive digital advertisement. It is often further specialized into local markets, and as an example, you will find companies specializing in the area of
SEO in London
. Social Media- it focuses on advertisement through social media by creating a schedule for posts and overseeing or creating the posts.
Content Marketing-where you out content and let it do the marketing. It can be video content, blogs, newsletters and much more.
Data Analysis – where you can track reports and researches and use that information in your marketing strategies. 
Beginning of Digital Marketing 
With the emergence of new technology, the birth of Yahoo, Google and the internet back in 1990, no one had imagined that digital marketing would spread like wildfire.
It was further enhanced by the presence of social media platforms when blackberry launched its email mobile program and Facebook came into existence soon after.
The world saw a transformation that was never witnessed before, it did not take long to enter businesses who realized that this was a great opportunity for growth.
They started engaging customers over the internet through websites and could communicate directly. 
Together with Facebook, other social media platforms such as Twitter, YouTube, LinkedIn came into play. Building digital marketing started to be even more effective and accessible to ordinary people.
The opportunities described on this site have brought instant results and provided the necessary tools for marketing. Today, companies gain much more audience and make much more revenue being present on social media platforms.
The success of such a transformation can be explained by the engagement with the clients and the audience.
Besides providing the place for the companies to present their brand, social media platforms gave opportunities to engage customers with likes, comments, and polls. Businesses can now ask their customers' opinions, introduce votes, create giveaways or competitions. Such helps people feel appreciated.
Moreover, they think they can contribute to the brand's new lines and influence trends. The introduction of the smartphone and its accessibility in almost all countries changed people's ways of life.
If before they were using the phone only to communicate with friends and relatives, now they can pay, buy, and read everywhere and any time. We can definitely say that social media, and its use in digital marketing, have changed the ways people interact today.
In India, the presence of Digital Marketing was felt way back in 2010 when e-commerce companies such as Flipkart and Snapdeal entered the market.
It was a major shift in urban lifestyle and also the way businesses operated. This transformation initiated the idea of Digital India. 
Companies began to search for innovative ways in which they could implement online marketing strategies.
Many revolutionary digital platforms have been created ever since.
One of the liveliest examples in India would be Paytm, it encouraged people to make digital payments and go cashless. 
Right Time to Join the Industry
Digitalization not only influenced lifestyle and businesses but also brought major growth in job opportunities.
The present scenario can be compared with the situation in the 1990s and early 2000s when the IT/Software industry was emerging.
Those who joined basic IT programs were able to enhance their careers and reach respectable positions in a short period. 
Digital marketing is bringing the same opportunities in today's time. The Wave associated with this industry is so strong today that it is undoubtedly the best time to be part of this fast-growing industry.
There are plenty of reasons which prove that this field is going to create a considerable amount of jobs in the near future as well. The number of jobs is not only high but they are well paid as well.
In India, the minimum pay for a Digital Marketing executive who has no prior experience starts from 15k-20k. This number only gets higher with qualifications and experience. 
In a world where more than half of the population is active on the internet, it becomes obvious that the number of jobs the internet is creating is only going to be higher in the future. Proving that this is the best time to join this field and make a career out of it.
Requirements
To start a career in Digital marketing one has to understand his/her interest.
Since there are many specializations in Digital marketing, it is important to understand ones' area of interest.
Every specialization has its requirements such as: To be an SEO specialist one has to understand what SEO is.
It stands for Search Engine Optimization- the basic function of SEO is to bring organic traffic on a webpage or a website. It provides ranking to that particular Webpage/Website.
It is one of the most crucial things required for a service website. It takes practice and deep audience analysis for the person to be an expert in SEO. 
When talking about Social Media Marketing, it is the most attractive career option among the young generation.
It includes marketing over social media platforms such as Facebook, Instagram, and sometimes even Snapchat.
The idea behind social media marketing is to increase consumer engagement, brand visibility and it also impacts the credibility of the company.
One must have command over language because it requires creating posts and content, good communication skills and punctuality in terms of posting is extremely important. 
Coming to Content Marketing- it requires a great deal of creativity. One has to create content in such a way that it develops an interest of the users and eventually convert them into leads.
Developing relevant and good quality content is the key to be a successful content marketer.
One should also have an understanding of creating keywords, platforms, and audience-oriented content development. 
Affiliated Marketing is for people who want to start a new service or already have a service/product which they want to promote.
It based on revenue sharing, if a person has a new product, he/she can offer an incentive to promoters via an affiliate program.
If a person has a good presence over the business, then he/she can promote other products and earn as an affiliate marketer. 
When marketing is done via emails then it comes under email marketing. It includes promoting the products, communicating changes, and new products and many more.
The requirements to be an email marketer are that the person should be able to analyze the audience, design emails, have good writing skills, analyze the performance of current campaigns and implement improvements.  
There are few skills that are considered must have to be a successful Digital Marketer:
Content-
Content is the king. One has to understand how important content is. It does not demand William Shakespeare level of English but a fair command over the language is must to be able to create good quality content. If a person creates content in a regional language, then it will only be consumed by a limited number of audience. 
WordPress-
WordPress enables a person to put out content, practice SEO and do a lot without having to learn coding. Therefore, it is crucial to have the knowledge of WordPress. 
Graphic Designing-
A picture is worth a thousand words. A Digital Marketer should have the assay of how a good design should look.  Hence, graphic designing becomes one of the essential skills. 
Analytical Skills-
It is important to analyze the number of viewers on an ad, number of people who clicked the ad, number of people who enquired and so on. Data Analytics is yet another crucial Digital Marketing skill. 
Digital Marketing Courses 
Considering the requirement and popularity of Digital Marketing, many institutes and learning centers have introduced Digital Marketing courses.
These courses include every aspect of this industry and some even provide customized training. It is recommended to take a course for better understanding and also, many of these institutes offer job placements.
You will find several
Digital Marketing Institutes In Ahmedabad
, Delhi, Mumbai, Bangalore and other cities of India to pursue the course.
If you are someone who cannot go for physical classes, many online platforms provide the course as well. 
Most professionals consider that certification helped them find a new job. Therefore, it is suggested to join a Digital Marketing Course and get certified.
Also, one of the perks of taking a Digital Marketing course is that the programs are taught by well trained and experienced professionals. It is always good to take help from the experts.  
For people who own a business, and want to bring their business online, they are also benefited from a Digital Marketing course. They can learn the required skills through a course apply the knowledge in creating an online presence for their business. 
People who are experienced and want to change their career or want to work in a modern-day workspace can opt for a Digital Marketing course too. They can combine their previous experience and knowledge with Digital Marketing skills. It requires minimum eligibility criteria of internet and computer skills to learn Digital Marketing. 
Digital Marketing Job & Career Opportunities
Digital Marketing is already providing lakhs of jobs every year and this number is only going to get higher.
Every company requires a good digital marketing team and with the government promoting the Digital India initiative, the requirement has doubled. 
According to the Internet and Mobile Association of India (IAMAI) by June 2018, the number of internet users in India will be 500 million.
It also states that about 25% to 40% in annual growth of digital marketing in India depends on digital marketing. 42% of brands in India today opt for social media marketing as their prime digital marketing platform. 
There are numerous job opportunities in this field such as: 
Social Media Marketing Executive

Content Writer

Content Marketing Executive

Digital Marketing Consultant

Inbound Marketer

Search Engine Marketer

SEO Executive

Conversion Rate Optimizer

Copywriters

Web Analytics Executive

Email Marketer
Click below for complete post
How To get a Digital marketing Job As A fresher
A fresher who does not have any relevant experience or has not worked on the project should accept any offer that comes his/her way.
An internship can help in gaining experience and a person can learn a lot during this period. After practicing for a good 2-3 months the person can apply as an executive and climb up the ladder as specialist, lead, head and eventually a chief digital officer. 
Here is guide to help you land your first digital marketing job.
Start Your Career As A Digital Marketing Freelancer
People who do not want to work on a job can start their career as a digital marketer. They can curate their brand by creating, websites, blogs, YouTube Channel, Instagram account and use all their Digital Marketing skills in that.
A person who enjoys cooking or exploring different cuisines can create a food blog that a lot of people are doing nowadays. Similarly, anyone who has a hobby or is specialized in something can be a Digital Marketer. 
You can work for several brands as a freelancer.  You can do freelance SEO work or Social Media Work or Content marketing and Content Writing related freelancing works.
One thing that should be understood is that no matter what form of content is being put out; it should be genuine and relevant. One has to have a creative thought process to acquire success in the desired field.
The content should be encouraging and engaging so that the audience interacts and relates to the product/ service/ cause.
Click below for the complete freelancing guide.
Pay Scale
The pay scale in Digital Marketing for a fresher depends on the capabilities, skills, and outlook towards the industry. 
Internships- To be honest, internships do not pay a lot but they are great opportunities for people who are new in this field.
They are wonderful learning platforms and most of the time, land up in permanent jobs.
The average salary of an intern in Digital Marketing is 10k-15k. An entry-level executive can earn up to 3-4 Lakhs per year.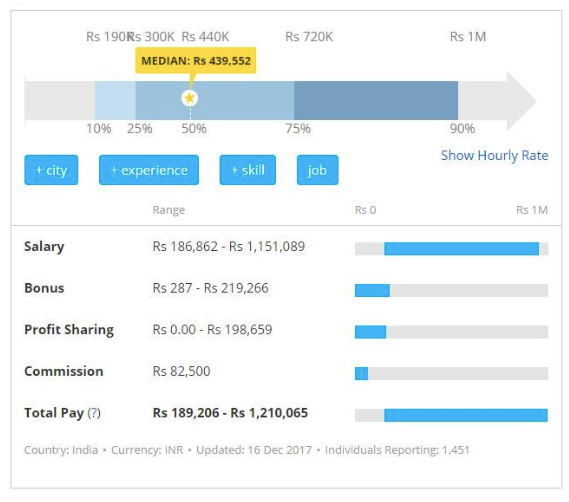 According to LinkedIn research
"The average pay for a Digital Marketing Manager is Rs 412,492 per year. Most people move on other jobs if they have more than 10 years' experience in this field. Experience strongly influences income for this job. The highest paying skills associated with this job. The highest paying skills associated with this job are Web Marketing, Strategic Marketing, Web Design, Online Marketing, Web Design, Online Marketing, and Social Media Optimization."
Click below to know how much you can earn as a digital marketer.
Digital Marketing Resume Building 
Now you have understand the role of digital marketing and how is the career in digital marketing and how much salary you can earn as a digital marketer and what are the jobs available in digital marketing. But how you will prepare yourself to land a good job in the digital marketing domain. Your first step should be your CV. A good resume will help you stand out from the piles of job applications. Here is the guide that will help you in finding loopholes in your existing digital resume and also assist you to build an excellent CV to stand out amongst others and get a good job in digital marketing as a fresher.
Digital Marketing Interview Prepration 
Now, If you have to appear for the interview of your dream job, you must also be thinking about the kind of questions regarding digital marketing that the interviewer will be asking during the interview.
Here is the guide that list out some of the knowledge-based digital marketing interview questions
an employer can ask and how to answer them during the screening.
Advantages of Working as a Digital Marketer
The best thing about Digital Marketing is that this field does not restrict you to one work profile. You can choose from a variety of options or even choose to know it all.

Fast Career Growth- With the rapidly increasing number of requirements in this field, career growth is alluring. One does not have to wait long years to reach the top of the ladder. The more projects you handle, the better opportunities you get. If you are creative, enthusiastic and have the knowledge and skills, no one can stop you from reaching high levels early in your career. 

Yet another advantage of being a Digital Marketer is that you do not need any fancy degree or qualification. Your work speaks for itself. 

The work timings of a Digital Marketer are flexible. One does not have to necessarily go to a workplace and can work from any corner of the world in the comfort of their own home.