With the ever-increasing development of Digital Media, a career in Digital Marketing is one of the most favored choices among Students & Professionals.
For anyone who is considering entering or changing careers to the Digital Marketing industry, the first and obvious question is 'What is the digital marketing salary for freshers in India?'
Salaries in the Digital Marketing industry is basically depending on several  parameters especially in:
1. Size and Type of Organization
Companies that are aware of and rely on Digital Marketing for their development are likely to pay a privileged salary in comparison to the ones who are not focusing on Digital Marketing.
Higher salaries are being offered in large corporations like MNCs or fast-growing or funded startups as compared to other companies.
2. Educational Qualification
Since there is not much required in terms of degree/diploma to come into the world of digital marketing at a huge number of the companies, having the qualification, which ensures relevant skills like communication, creativity, analytical reasoning, are obviously going to benefit the candidate.
Apart from a qualification that helps you stand out you amongst others is your CV.
Your resume should be brilliant enough to catch the eyes of recruiters. Moreover, you will find several digital marketing resumes templates for freshers for inspiration.
3. Digital Marketing Knowledge & Skills
Considering the fact for a fresher, one will not have professional experience but the commitment to acquire relevant digital marketing knowledge and skills through different sources like learning through an industry-recognized digital marketing course, self-practice, internship are going to play an important role in getting a higher salary.
Moreover, you can check and practiced mostly asked Digital Marketing Fresher's Interview Questions. A lot of people are asking how to get a digital marketing job as a fresher. First, become a digital marketing expert. 
One is not going to get a good job in digital marketing until having expertise or skills in digital marketing. So, it becomes very essential to gain digital marketing skills in order to get a good job.
The average salary of a Digital Marketing Specialist is Rs 512,492 per year. Most people move on to other jobs if they have more than 10 years of experience in this field.
Web Marketing, Strategic Marketing, Web Design Online Marketing, and Social Media Optimization are the highest paying skills associated with such kind of job.
And, the average salary of an entry-Level Digital Marketer is Rs 377,522 per year. Also, it will vary upon the individual's skills, organization, and location. One should be creative, confident, and consistent to get things moving in the right direction.
Building a career in digital marketing is the perfect professional way for any individual to earn a handsome salary in digital marketing as a fresher.
A fresher can start their career as digital sales executives, internet marketing specialists, search engine optimization, marketing specialists, or among other options. 
Opportunities in Digital Marketing
There are several jobs and career opportunities for fresher in digital marketing. Below are some of the sectors where one can make a career in digital marketing as fresher:
Education

Real Estate

IT Companies

Tour & Travels

Banking

Fashion

Insurance

Advertising Agencies
Responsibilities of a Digital Marketer:
Responsibilities of a digital marketer are developing the strategies which are used in marketing a company's product online, utilizing such techniques in the field as web analytics, social media, search engine optimization, and e-mail marketing among others.
Digital Marketing has become the mainstream where every 
new business in India
 is taking a step forward into the new strategy to construct a high competitive strength. We at
Digiperform provide the complete digital marketing training to the candidates and develop the approach in their minds so they can add more value to the organization.
Generally, a fresher can earn
20000 – 25000k
per month depending upon the skills one acquires.
There are various ways of earning a handsome salary in a professional career. We at Digiperform bring the digital marketing course content which is unique, understandable, and helpful in getting a better position in the organization and we do help in placement assistance.
There are unusual ways which are available to earn money at this time in the market. The hottest buzz to earn money online is through digital marketing. Digital marketing is a great way to earn money online even without going out of the home.
Digital Marketing isn't the shortcut to make money, like every other job one needs to spend time and learn the fundamentals of it before pitching into it and then only one can come across the ways to make money in digital marketing.
Here  is the chart displaying the Digital marketing salary range (annual in Lakhs) for Digital Marketing professionals in India: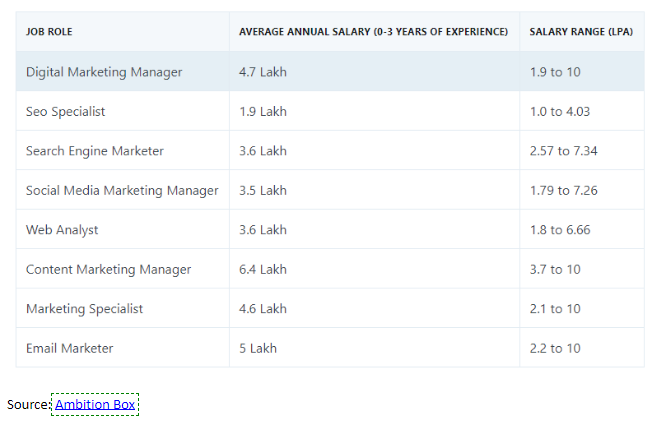 The more one will learn and will practice the digital marketing technique; one can make significant earnings from it. Digital marketing is termed as an online platform where one can publicize their products online on the internet or any other digital source.
Gone are the days, when salesman used to sell their products or services by shouting their prices, attractions, and their benefits in a community market. As businesses nowadays have a significant online presence, the sellers have grabbed the chance to create a niche for their products or services and this is where the concept of digital marketing comes into the market.
As it uses social media and web pages to advertise the product, it takes the details of the product to the customer anywhere and anytime.
Digital Marketing Salary For Freshers
There are various options where one can start earning money through digital marketing. Below are some of the examples:
SEO
Content Marketing
Website Designing
Blogging
Mobile Marketing
Social Media Marketing
Email Marketing
Affiliate Marketing
1. Search Engine Optimization:
SEO or Search engine optimization is a very big word but it is a very simple process of online money making once you identify the specifics. The main target of SEO is to increase the site's visibility in the search field.
Every search engine provides a result based on defined keywords or key phrases of the search query which are typed in the search box and the most relevant results get to be on the top whether it is a paid one or the organic.
Here comes the work of SEO specialist who helps to optimize the website pages with the most searched keyword and key phrases to make certain maximum visibility of the website.
In-demand job Profiles in SEO:
1) SEO Trainee /Junior SEO Executive
2) SEO Executive/ SEO Analyst
3)Sr. SEO Executive/ Sr. SEO Consultant/ Sr. SEO Analyst
4) SEO Team Lead/ SEO Manager/
5) Online Marketing Specialist/ Web Marketing Manager
Average Salary: 
The average salary for an SEO Specialist is Rs 491,318. –Payscale
Responsibilities:
An SEO professional is responsible for creating or building links by writing SEO content which is written in consideration to the aim of attracting search engine traffic.
SEO specialists are required to create content with a rich combination of keywords and phrases and improve the chances of the website to reach the top suggested results.
There are various types of SEO Content Writing like articles, list-making, slideshows, blogs, videos, infographics, guides, directories, etc.
2. Content Marketing:
Content Marketing is termed as creating and publishing free content online with the intent to advertise a certain product or service. Content Marketing works as a bridge of information between the consumer and the seller. This method is also used in search engine searches.
The current trends in buying now are Query Searching, Comparison, Research, and Buying. These steps are possible for online purchases if there are good search results to evaluate and buy if there is good content available about the product.
If you have a strong skill in writing then yes, this is one of the ways how to make money by digital marketing.
In-demand job Profiles in Content Marketing:
E-commerce Content Writer
Content Marketing Consultant/ Specialist
Average Salary Range: 
The average salary of a content writer is Rs 656,739 per annum. – Payscale
3. Website Designing
Designing a website requires a certain technicality. If a person has the capacity to design a website from scratch and maintain it in such a way which is noticed by the user.
Website design consists of planning, creating, structuring and updating the websites.
This clearly means that the designer needs to choose the relevant specifics like an inviting layout, a splash of colors and the images used in them, creating a user-friendly crossing point for optimum navigation.
The website designer should always keep in mind that the website needs to be updated on a regular basis so that it can keep up with market trends.
In such a way of digital marketing, one can learn how to make money through digital marketing. By designing websites according to the client's needs or restructure an existing website by giving it a makeover, one can work from the comfort of home.
In-demand job Profiles in Website Designing
1. Website Designer
2. Web developer
3. Web designing expert
Average Salary Range
Average Salary of a Web Designer in India Rs 281,410 – Payscale
4. Blogging
A writer, who writes his /her personal opinion on any topic, is considered blogging.There are many blog sites that propose free hosting of opinions and have the readability of millions of readers.
For a creative writer, it is a rewarding opportunity to write an interesting blog about the product and at the very same time, online money making with digital marketing is achieved.
The blog should always be in the current trend and that is the basic rule of blogging. You could also link Google Adsense and monetize your blog by hosting ads.
For and each and every ad you hoist on your blog you will able to generate more income.
With genuine content in the blog, one can attract readers and it offers a free sample in exchange for their email address builds their trust and then advertises a product on your blog.
This process will really be useful to the reader and then thereafter can earn a commission, if the readers use your blog as a link to purchase the product.
There is no limit in earning as a blogger.
5. Mobile Marketing
In digital marketing, Mobile Marketing is an innovative way of marketing. With digital marketing, mobile marketing has become a trend for online money-making.
There are multiple ways of mobile marketing like SMS Marketing, Push Notifications, App-based marketing, In-game Mobile Marketing, QR Codes.
SMS marketing – SMS marketing is done by short messaging service or SMS. Earlier the products used to be advertised in this manner till the time digital marketing comes into the picture. Small-scale entrepreneurs are using such kind of methods.
Push notifications – A message that can be viewed in a single tap when it pops on the mobile or tablet screen of the viewer. This methodology was first introduced by Apple in 2009 and then in 2013, it was later replaced by Google cloud messaging service. 
App-based marketing – Mobile app development is now one of the beneficial ways to make money through digital marketing. In digital marketing, app-based marketing is a recent trend that is noticed. In the app store responsibilities of the developers is to gain the maximum visibility of the product.
In-game mobile marketing – A lot of pop up ads in the game are seen when playing an online game. Once the user clicks on these pop-up ads, they are redirected to the third-party website where they are urged to buy or download the app or game.
QR Codes – The user can access the product easily without the hassle-free site navigation once these QR codes are scanned by the mobile as the URL automatically redirect them to the browser's tab. You can also use a dynamic QR code generator. 
In-demand job Profiles in Mobile Marketing
Mobile Marketing Specialist
Mobile Marketing Manager
Head- Mobile Marketing & Advertising
Average Salary Range
The Average Salary of a Mobile Marketing Manager is Rs 381,410
6. Social Media Marketing
Marketing that is done on social media platforms like Twitter, Facebook, Instagram, and other social media platforms come under Social Media Marketing.A massive demographic is witnessed that uses their free time spending on social media and chatting to like-minded people.
Nowadays most of the networks of social media have their own data analytics tools that assist them in building and advertising their marketing campaigns on social media leading to awareness about the product.
A marketing campaign can be posted on social media account and can make money for the number of campaigns posted in the account.The number of views one can get from the friends and the success rate of your campaign will make certain the cost-effective online money making with digital marketing.
A post on social media can be shared as how to earn money by digital marketing in order to attract more views and these views can be used in advertising the product.
Social Media Analyst/Executive Roles and Responsibilities:
Social Media Executive must create engaging and relevant content to reach the targeted audience.

Design, create and execute campaigns to run on social media like Facebook, Instagram, Twitter, etc.

The role involves engaging in dialogues & answering queries as per requirement.

To capture customer online reviews and ratings, a proactive strategy should be implemented.

Should be monitoring trends in Social Media tools, applications, channels, design and strategy.
In-demand jobs in Social Media
Social media manager
Social media strategist
Social media specialist
Community manager
Social Media Moderator/ Executive
Social Media Specialist/Consultant
Average Salary Range
Usually, Social Media Executive's salary is higher compared to that of PPC Executive in most cases.
The average salary of  a social media Fresher ranges from 2,50,000 to 3,50,000 per annum in India.
And the average salary of a Social Media Manager is 5,60,000 approximately.
In Digital Marketing Agencies, Social Media Professionals are high in demand. 
7. Email Marketing
In the world of marketing, email marketing is an innovative way. An email to the recipient by providing the details of the products and the deals associated with that product is being shared by the advertiser in the email marketing.
In a single click, email can reach millions of customers and this process makes it important and since it is a mix of graphic content with contents and links, hence, it gives access to the customer for easy purchase and information.
There also pre-defined templates in which the information can be filled and sent to the recipient. The benefit of this type of digital marketing is that the product is advertised to a large audience and has a far outreach than the traditional method of marketing.
The cons of using this methodology are that sometimes when an individual receives a bunch of marketing emails, these emails then tend to be dismissed without having a single glance.
So this becomes very important that the email marketing created should be very attractive and creative enough so that it can be opened in a single glance. But the key part of this method is your mailing list.
Nowadays there are certain email marketing campaigns that pay when the provided link is being clicked by the lead in the email. This is another way of earning money through email marketing.
In-demand jobs in Email Marketing
Email Marketing Specialist
Email Campaign Specialist
Email Marketing Executive
Average Salary Range
The Average Salary of a Mobile Marketing Manager is Rs 539,614 –Payscale
8. Affiliate Marketing
Affiliate marketing is that digital marketing is based on the weight of one's recommendation and based on one-to-one recommendations if you recommend a product to your friend and then that individual uses the link shared by you to purchase the product.
Then only you would be earning or making a commission out of that sale. This is called affiliate marketing. Many online e-commerce companies have successful affiliate marketing programs which are also called referral marketing.