The social media platforms have made the whole process of building a brand bit easier by enabling brands to engage with the consumers and spread awareness about their product and service.  It thrives the agenda to create a better online presence and manage real-time communication with prospects and customers. However, nothing comes in handy and same in the case of social media as well. Social media are more prone to negative consequences than any other digital platforms. Each and every brand experiences criticism on social media at some point or the other. In this digital age, following a wrong strategy can also damage a brand's image. It is important that this double-edged sword is given in right hands as even a slightest of slip can literally kill your brand.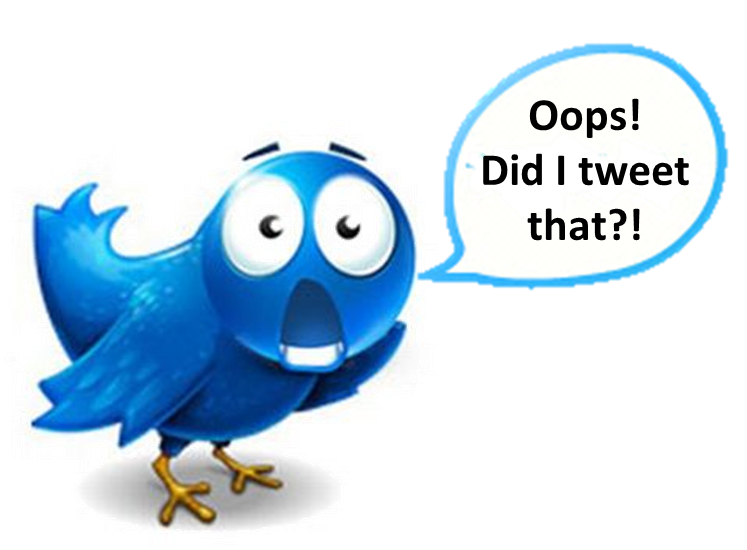 Every day the social media generates a huge amount of real-time data which is counted as more than 500 million Tweets, 4.5 billion likes on Facebook and 95 million pictures uploaded and shared on Instagram. The data is huge as compared to other marketing channels and the downside to this is that most companies are hardly experimental or afraid when it comes to handling their social presence. The companies who don't emphasize the basis of social media strategy fails to create the right vision for the market. Now, Customer Service is beyond ticketing system and more aggressively on these social media platforms only where all you need to follow right strategy to avoid Social media outrage and a full-blown crisis.
Let's dig out few examples how social media failures affected brands (both national and international) dignity and led the campaigns totally in wrong ways:
#AgarMaKaDudhPiaHaiTo by Fortis Healthcare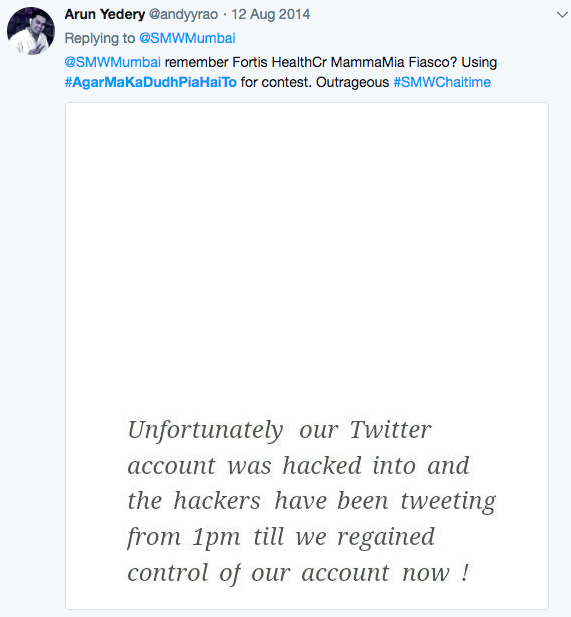 One should probably avoid a '1980s villainous dialogue' from Bollywood movie in a hashtag when you're celebrating breastfeeding week. Same has been misused by the famous healthcare chain line Fortis. #AgarMaKaDudhPiaHaiTo tag by Fortis invited one-liners for a contest. As it spawned negative reactions, they came up with a lame apology that their account was hacked. Screenshot
Vibrator by Volkswagen
When Volkswagen India's shared the print campaign which had a small vibrator box pasted to their print ad and received widespread criticism. Instead of understanding the criticism, they made matters worse on Twitter. When people started tweeting in absolute mockery, portraying the 'vibrator' campaign to be a women's favorite, the company lashed out in a tweet stating that
"Women would be dumb to call it a vibrator. Or maybe they do not understand the real driving experience. #PunIntended #Volkswagen #Creative"
. The company was forced to take down the offensive tweet and apologize
ScrollDroll – Myntra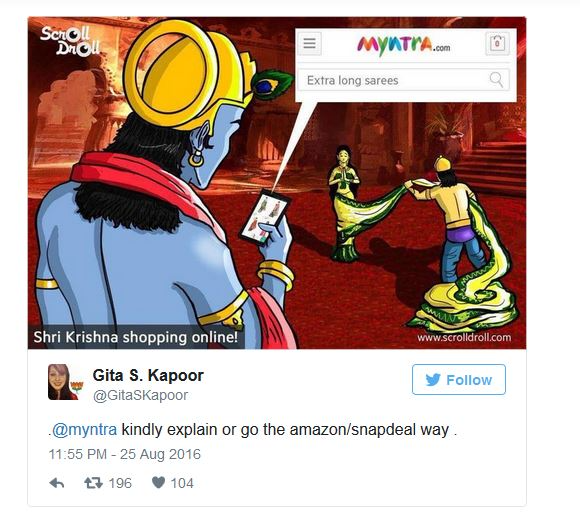 The duo landed in a goof when ScrollDroll posted a creative featuring Myntra in it using the occasion – Janmashtami. The creative invited flak with users crying foul over demeaning an auspicious occasion. With religion being a sensitive topic in India, ScrollDroll took the risk of treading along a very thin line, dragging Myntra with it.
Zomato
In one of the recent Zomato ad, Zomato used letters that are short for Hindi language expletives, started going viral on Twitter and Facebook with people calling it sexist, cheap and crass. The ad had to be pulled down because of all the criticism that had hurt Indian sentiments stating that Zomato is a family brand should not have gone so cheap for publicity. Even experts even criticized the ad for being in bad taste.
Manforce – Navratri
Traders' body CAIT asked the Centre to ban an outdoor advertisement in Gujarat of Manforce endorsed by actress Sunny Leone, saying it was derogatory and encouraged the youth to use its condoms in the name of Navratri festival. According to reports, the brand had to remove 500 such hoardings across Gujarat, following the massive controversy and it even apologized that the intention was not to hurt any sentiment.
Pepsi Hates Ronaldo Campaign
Things can get piteous when mega-fans are in charge of the social networks. The Swedish branch of Pepsi got in trouble for running Facebook ads of Portugal's footballer superstar Cristiano Ronaldo's voodoo-doll-likeness in various painful poses. The Portuguese fought back by creating a 100,000 strong anti-Pepsi group in a single day. Pepsi apologized.
J.P. Morgan Cancels Q&A
In 2013, with the financial crisis still stinging, the management at J.P. Morgan decided to open up their Twitter account to questions that would be answered by the vice chairman the next day. After six hours of continuous abuse by the Internet asking things like "Where do I send my resume? I'm smart and have very flexible morals", the Q&A got canceled.
Types of social media Blunders
Problem:
The problem can be formed like service or product issue and can be the easiest to resolve. The problem is actually more of a support issue.
Criticism
: Criticism is real feedback about what people feel is not working for them with your products and services. Criticism may explode if ignored or dealt with inappropriately.
Crisis
: Crisis hits when someone is really pissed off and dedicated to beat the person or company any way you want. First, make sure that there really is an issue and it's not someone trying to create a problem out of thin air.
If you are looking forward to avoid making such blunders on social media, regardless of whether you're working with millions or hundreds of followers, follow the right online strategy and rules to win over all the situations. Coming back from a social media fail requires complete understanding, preparation, transparency and a commitment to your social media community. I have laid out the steps you should take in more detail below:
Acknowledge the Blunder:
It's a human tendency that people expect speed and transparency from anyone whether its a person or business and same in the case of a social media blunder. The ideal way to avoid any blunder whether it's a typo or an offensive tweet is to acknowledge it as soon as possible. The more you delay, the worst it will mess up. People will be eagerly watching your account and waiting for a response. So respond. Even if you're not yet sure what happened, acknowledge that you're aware of the issue, looking into it and try to provide the best solution for the same.
Address Negative comments and Feedbacks:
The worst mistake done by the businesses is to ignore negative feedbacks over social media. The negative comments give a great impact on company's profile and attract more attention. It is a big deal. Also, the people who look at your social media profile, see these messages are negatively affected. Thousands of visitors may look at your social media profile, see the comment or review, and make no mention of the comment anywhere else. When people see something negative and inappropriate, they may not comment on that, but the damage is done. Respond to your negative comments with comments that will convert negative follower in into positive one.
Apologize:
Being transparent and sincere is an ideal key to success and gain trust. Never underestimate your audience as when you start to become secretive or sweep things under the rug, your audience will become wary and suspicious. Never pretend like it never happened. A simple apology can make worst scenarios into good one. Once it has been made public, your best course of action is to admit the mistake and let your followers know what you're doing to correct the issue.
Don't Become Defensive:
You're going to receive backlash after a social media fail. Don't let pride get in the way and cause you to become defensive. Learn to respond appropriately to relevant messages without losing your temper. That means being courteous and respectful. Also, keep in mind that you don't have to reply to each individual message with generosity.
Never Use foul Language:
Some people think it helps them to connect with their viewers. In this case, they don't know anything. Their clients may use foul language, as may their suppliers and competitors. You can use foul language in real life if you wish, that's your personal choice, but keep it off of your social media profile. Have some dignity when it comes interact on online platforms. You may well be connecting with your customer base, but you will have a hard time convincing them to trust you. Foul language often comes from an aggressive stance. Getting aggressive is part of human nature but one needs to keep the tab on the same if you want to succeed in your Social media marketing campaign.
Featuring sex, drugs, violence on your profile:
Feature inappropriate content on your website just for attention should never be part of any company's strategy. Feature them in your blogs, podcasts, vlogs and your presentations if you think it may connect you with your audience but won't benefit you for a long run. The reasons are diverse; people can be offended, it can be misunderstood, it can be against the platforms policy. Similarly to foul language, tread very carefully when dealing with these issues.
Check the account before posting: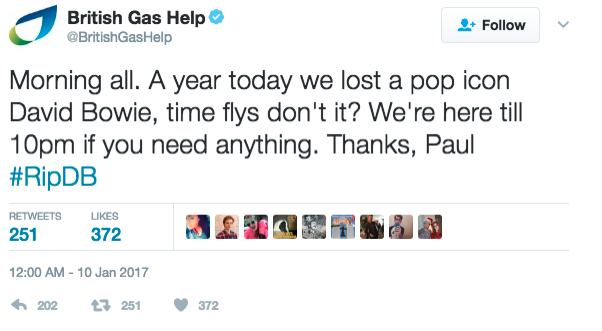 When you are handling a social media account it is quite common that you would have multiple accounts on your phone but some little mistakes which even you are not making intentionally can bring out the shame. Hence it is very important for the person to cross check before posting or you could post something
Do not hurt religious sentiments:
Most brands want to be so proactive that they would want to wish their followers on every festival. Fair enough, but do your research before posting. Don't just post anything to get attention like I have shared an example earlier (ScrollDroll-Myntra Campaign).
Not Having a Social Media Team:
Assemble a dedicated team to handle social media and they will make those goals and targets work. Hire the one who is young, who have that kind of attitude in controlling and understanding the nature of social media users. Who knows when to slay and how to slay.
Key Takeaways:
Follow the golden rules to avoid any social media faux i.e. Acknowledge, Address and Apologize as social media is a place where people are more expressive in sharing their opinions, viewpoints, and reactions.

Companies should avoid to IGNORE Negative Feedback. The negative comments may not get much response from other users, which leads the business to think it is not a big deal. But the people who look at your social media profile, see these messages are negatively affected.

Check the facts before posting or get trolled but in a very smooth way. Try to avoid religious, foul language and sensitive issues.

Hire a right and young people who understand the snowiness of these platforms and know how to handle the outrage and process to manage the social presence.
Also Read:
How to Grow Your Small Business Using Social Medi
The future of business is Social Media Marketing
How To Make A Successful Career In Social Media Management (Social Media Marketer)?
I hope these preventive measures will help you to understand the seriousness of social media platforms. Please share in the comments if you have come across this kind of blunders and the measure you have taken to solve it.