Almost every modern company uses digital marketing to grow their business and increase their bottom line.
Back in the day, the only way to get the word out about your business is through traditional advertising or marketing methods, such as print, radio, and television ads—which tend to be expensive.
As a result, small companies didn't have the financial capacity to pay for traditional advertising and marketing.
But thanks to the Internet, more companies can now market their products and services online.
A Look at Digital Marketing Strategies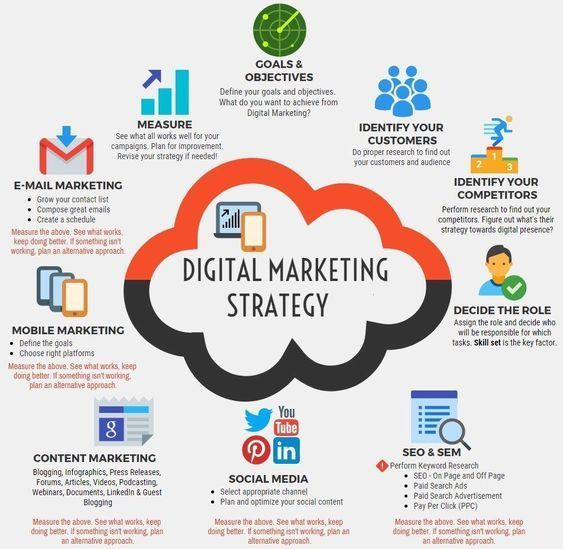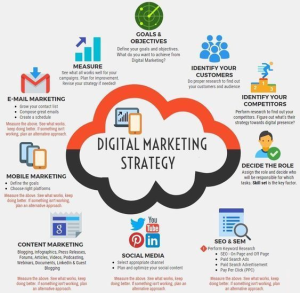 Digital marketing covers a wide range of practices that includes
search engine optimization (SEO),

audio marketing,

brand journalism,

instant messaging marketing,

pay per click (PPC) advertising,

content marketing,

social media marketing,

video marketing,

virtual reality marketing and more.
From this long list of subcategories, search engine optimization (SEO) is considered one of the most important and often utilized.
Must Read: The Complete Beginner's Guide to SEO Marketing. 
The Importance of Search Engine Optimization
SEO refers to the method of applying changes and improvements to your website design and content to drive traffic from search engine results. The higher the traffic of your website, the better the ranking your website will have on Google and other search engines.
SEO helps make your Web page quickly crawled and categorized by search engines. The method makes it easy for customers to find your business.
This is the power of SEO and one of the main reasons companies turn to SEO experts to build brand visibility and awareness.
How can SEO Benefit Your Business?
Competition is fierce, and businesses are always trying to outperform one another. 
Back in the day, larger companies and established corporations had the upper hand when it comes to advertising and marketing.
More prominent companies have bigger marketing budgets to work with. For that reason, it was difficult for small businesses to get a more significant share of the pie. But this is not the case today.
The Internet has given businesses of all sizes the potential to market their brand locally and internationally with the help of proven digital marketing strategies such as search engine optimization.
This is the power of SEO and one of the main reasons companies turn to SEO experts to build brand visibility and awareness.
Here are the ways SEO helps in digital marketing:
1. Boosts Web Page Traffic
There's a reason why digital marketing specialists put so much effort into proper search engine optimization—Web page traffic.
To increase traffic to your site, you need to rank high on search engine results. The top spots on the SERP or search engine results page typically generate the highest number of clicks and visits.
If a potential customer searches for a product or service online, and your brand does not appear on the first page of SERP, chances are you'll lose the sale to a company that appeared on the top 5 search engine results.
Even if your product is better than your rival, it would not matter if clients don't know you exist. SEO is a component of online marketing that helps your Web page gain relevant traffic, more visitors, and better conversions.
2. Builds Trust and Improves Credibility
Consumers are getting smarter every day; with access to thousands of information online, people want to make sure they are getting the best deal for their money.
SEO not only directs traffic to your website, but it also improves your brand's credibility and instills trust in potential clients. To win the hearts of potential customers, you must be seen as an authority in your industry.
SEO boosts your business by helping your website rank at the top of search results. When people search for a product online using phrases or keywords, the fact that you appear first on the list immediately evokes feelings of trust and assurance.
SEO, together with valuable content, drastically improves your brand's reputation and credibility. Since consumers are becoming more prudent and discerning, businesses should aim to be smarter with their digital marketing strategies, too.
SEO allows customers to discover and learn more about your business.
3. Provides Data that will Help You Improve Your Business
Search engine optimization provides you the data you need for making changes and adjustments to your online marketing strategies. A traditional marketing campaign usually won't provide such valuable information.
Search engine optimization data can be generated and analyzed to help you prepare an action plan. SEO data lets you monitor how customers behave while browsing your website through information like bounce rates, repeat customers, abandoned shopping carts, and more.
Through SEO, you can also engage with customers and use their feedback to improve your services and product offerings.
4. Offers Long-Term Benefits
Implementing a successful SEO strategy requires patience and commitment. It takes time and dedication to achieve great search engine optimization results.
However, the great thing about SEO is its long-term benefits. Once your website is optimized correctly, you will enjoy excellent results for your business.
Investing in SEO provides long-term benefits to your business in several ways as SEO:
is more cost-efficient than other Internet marketing strategies.

efforts and results are quantifiable and practical.

lets you provide a better user experience through a faster and more organized website.

allows you to reach domestic and international markets.

when properly implemented, provides long-lasting results, including increased brand visibility and awareness, as well as improved customer satisfaction and brand loyalty.
5. Helps You Get Ahead of the Competition
Your digital marketing efforts will not be complete without SEO. Search engine optimization improves the usability of your website and increases your conversion rate.
To stay competitive and get ahead of industry competitors, you should implement the following:
Analyze the SEO activities of your competitors

Optimize your business' online content to reach your target market

Create and share relevant, valuable, and engaging content to your target market

Learn SEO best practices and keep abreast of the latest SEO trends
Conclusion
Search engine optimization is definitely the most crucial component of effective digital marketing. Any business that fails to implement effective SEO strategies will lose plenty of potential business.
SEO, combined with other online marketing strategies, increases your brand's visibility and improves your bottom line.
Among all digital marketing strategies, SEO should be your top priority.
With SEO, you can build awareness, reach your target audience, increase trust in your business, and promote brand loyalty.