Meet Ramparas who got Digital Marketing Certified from Digiperform Malleshwaram Bengaluru center. He is one of the brilliant trainees we have, who got placed just after the completion of a digital marketing course.
Therefore, we decided to get in touch with him personally and congratulate him for his first digital marketing career success.
He is currently working as a Social Media Specialist in one of the leading digital marketing agencies of Bengaluru, Silver Feather Infotainment.
During the call, we decided to ask him a few questions regarding why he decided to learn digital marketing and how it feels to be part of Digiperform. The answers we received were splendid.
Here is the transcript of the overall discussion we had with him.
Digiperform: It's a pleasure to connect with you! Before heading further, we would like to know a bit about you.
Ramparas: Hi I'm Ramparas, I belong to Bengaluru and completed my digital marketing certification from Digiperform Malleshwaram.
I have always been curious about social media memes and platforms. I used to spend my whole day watching memes and social media stories.
While scrolling down memes and images on Facebook, I saw one image saying that "If you love Facebook so much, then why don't start working on Facebook."
This literally shocked me that how could I work on Facebook. Was it actually possible?
I started my investigation as Sherlock Holmes and decided to know more about Digital Marketing. 
Now, I'm working as a Social Media Specialist in Silver Feather Infotainment. My detective skills paid off and, I'm loving it!
Digiperform: What originally attracted you to choose digital marketing as your career?
Ramparas: As I said earlier, why I loved social media marketing and how I decided to learn digital marketing. 
Also, while my research, I figured out that Digital Marketing has multiple roles where you could choose any role of your choice. And, these roles have their own charm. Yeah! It's interesting to work as a digital marketer.
Also, in my opinion, the people have one sort of mentality regarding Marketing that "Marketing means door-to-door marketing i.e. field work." 
Buddy, if you are thinking like that, then you are completely wrong.
Digital marketing is completely not a field job. It's an amazing industry. A creative industry.
With digital marketing, you can work from any part of the country, anywhere. All you need is an internet connection and a laptop. 
And, in case if you started working as a Freelancer, then you can work as per your own convenience. No pressure for Your Boss! You gotta be your own Boss. 
These factors make me fall for digital marketing and decided to choose a career in digital marketing. 
Digiperform: What exactly that makes us stand out from the competition & urge you to choose us over others?
Ramparas: There are many things like
LMS – this is an awesome feature that helped me revise my classes at night. It helped to clear my doubts as well as regain more confidence. 

Your infrastructure is amazing that makes classroom learning interesting. Yeah for me, If I don't like the place and infrastructure, I can't learn or work there.

Trainers are very supportive. Even after clearing my certification, I can ask about any query related to my profession. They are very happy-go-lucky people.
Digiperform: Tell us about your favorite experience you had with us, whether as a learner or as a customer?
Ramparas: I really had a great experience at Digiperform. It felt like I was back to my old school days where we used to sit together and perform our practicals. 
It felt so amazing!
I believe one should always go for classroom training instead of online.
These little moments could make your learning process very interesting.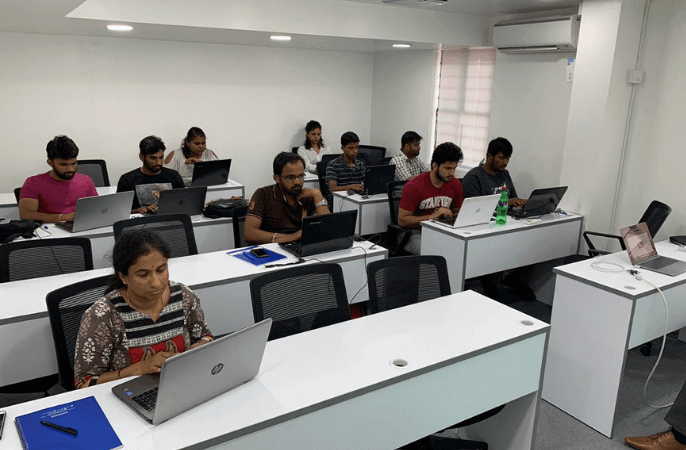 Digiperform: Would you consider Digiperform as a trusted & reliable resource for Digital marketing training? Why?
Ramparas: Yes, they deliver what they promise. Like, whenever I wanted to have a doubt session, they provided me. 
Also, they helped to have my first digital marketing job just like that. They give you 100% placement support. What else you need, man? But for the same, you need to work hard as well. 
Digiperform: If you were to review our training program, what score would you give it out of 10?
Ramparas: I would give a perfect 10 out of 10. I'm a happy Digiperformer!
Digiperform: Where do you see yourself in the next 5 years?
Ramparas: In the coming years, I would definitely like to be a Digital Marketing Manager or running my own firm. Fingers crossed!
Digiperform: If you had a piece of advice to someone just starting out, what would it be?
Ramparas: Don't delay or waste your time. If you want to learn digital marketing, then don't think twice. 
Go for it. Be a Digipeformer.!
Digiperform: Finally, Describe Digiperform in one line.
Ramparas: In my eyes, its Number 1 Digital Marketing Institute in all over the country. 
Digiperform:
Thanks Ramparas for sharing your experiences so vibrantly. We wish you will become Digital Marketing Manager soon.