Internet access is a main-stream which has intensified the use of mobile phones, computers, and laptops. This intensity leading to a high change in the growth of digital channels both in strength and volume.
Be it social media, surfing for information on Google or making purchases, India has transformed this medium into a full-fledged market.
And, this market has flourished into creating Digital Marketing as a prime source of bringing business through the internet!
Digital Marketing is growing at a rate of 25-40% in India annually. And, according to the Economic Times Statistics Report of internet users, India would be reaching 627 million users of the internet by the end of 2019.
India also has the World's largest Facebook population. The high-speed digitization, online portals, social media channels, etc. lead to a growth of digital marketing in a trend par imagination. 
From where we began!
Door to door advertisement, word-by-mouth publicity, radio announcements, TV commercials – India always relied on traditional methods of marketing. Until the internet happened! The tools of marketing changed from humans to gadgets.
It became easier to penetrate through a large segment of the audience in minimal efforts. And, as the number of laptop and mobile phone users keeps expanding, digital marketing to spreads its wings wide and far. 
Internet Era of India – 2008 Onwards
An important development in the country's technology landscape has taken place with the advent of the Internet era from 2008 onwards. The digital revolution has gained momentum, thanks to the advent of high speed internet connections and a broad adoption of mobile phones. During this period there was an increase in the number of internet users, thus resulting in a proliferation of online services, e.g. retail platforms, Social Media Platforms, Digital and Content Consumption.In order to promote digital literacy and address the digital divide, Indian government's initiatives like Digital India have also contributed significantly.
Present Scenario of Digital Marketing
In the present scenario, digital marketing has solidified its position as a key element of business strategies across industries. Businesses have adopted a series of approaches to ensure effective access for their target audience in the face of growing internet and digital technology reliance.As the digital landscape continuously evolves, businesses must stay updated with the latest trends and technologies. Some emerging trends that have the potential to further disrupt this digital marketing landscape are virtual and Augmented Reality, Artificial Intelligence or Chatbots.In conclusion, the present scenario of digital marketing is characterised by a diverse range of strategies and tools aimed at effectively engaging with the target audience. Businesses need to adapt and embrace innovative approaches if they are to stay competitive in a digital environment as technology evolves and consumer behaviour changes.
The following are some of the most recent techniques:
•  Artificial intelligence
 AI enables personalised customer experience, data analysis and effective targeting of advertising.
•  Augmented Reality (AR)
 AR is used for interactive and immersive brand experiences, enhancing customer engagement.
• Optimisation of Voice Search content
The optimization of voice search content has become vital in view of the growing popularity of voice assistants.
•  Programmatic advertising
 Based on user behaviour and preferences, automated ad buying allows real time targeting.
•  Chatbots
Artificial intelligence chatbots are providing immediate assistance to customers and improving communication.
•  Personalization 
Personalization  is good for your customers' satisfaction and brand loyalty because it customizes content according to their preferences.
•  Automated & personalised mail marketing

 
With the use of automated email campaigns that take advantage of users' behaviour, appropriate communication is ensured.
•  Marketing automation
 To achieve better efficiency and scale, streamline the implementation of marketing tasks and processes.
•  Micro influencers
 working together with niche influencers for authentic brand endorsements and wider reach.
•  User-Generated Content:
Encouraging customers to create content promotes brand advocacy and authenticity.
Geofencing: Location-based marketing to target customers within specific geographical areas.
•  Omnichannel Marketing

 
Providing a seamless brand experience across multiple channels.
•  Video advertising
 using video content to tell stories and engage audiences in an effective way.
•  Instagram Reels
Short-form video content on Instagram to capture the younger demographic.
Advantages of Digital Marketing
Digital marketing offers numerous advantages for businesses. First of all, it enables businesses to reach their target customers in an effective way by providing geographic coverage and giving a specific audience segmentation capability. The precision of targeting ensures that the marketing efforts are targeted primarily at those who will most benefit from conversion and thus generate an increased return on investment.One of the key strengths of digital marketing is the ability to analyze real-time data and gain valuable insights. This data-driven approach allows marketing campaigns to be measured accurately, making it easier to optimize strategies and achieve better results over time. Businesses can adjust quickly to changes in market trends and consumer behaviour, through the speed and flexibility of online marketing.Cost-effectiveness is another major advantage of online marketing over conventional advertising. There are often cheaper options available to businesses of all sizes, such as start ups or SMEs, through online channels.Personalization is a crucial aspect of modern marketing, and digital platforms excel in providing personalized interactions with customers. Customers feel valued and engaged, gain long term connections and increase their brand loyalty as a result of tailored content and offers.Furthermore, in today's digital era, online marketing is the optimal choice due to its ease of access and convenience for both businesses and customers. In order to improve the total customer experience consumers can engage with brands by means of different digital touchpoints.
Disadvantages of Digital Marketing
Digital marketing comes with its fair share of disadvantages that businesses need to be mindful of, despite its numerous advantages. Its competitive nature is one of the core challenges in today's digitised world. It can be very hard to stand out and make a difference in the noise of countless businesses, which compete with one another for audience attention on the Internet. .Technical issues are another concern in digital marketing. Unexpected delays or interruptions in marketing activity may arise as a result of reliance on technology. This disruption can have a detrimental effect on the effectiveness of the campaign and may cause customers to withdraw their interest.Moreover, digital platforms are known for their ever-changing algorithms. These algorithms determine what information is displayed to users, and a constant change in the visibility of advertising content can have significant effects on user perception. As a result, it becomes an increasingly challenging task to reach and retain the same audience.To navigate the digital realm successfully, companies must possess a deep understanding of the need for continuous updating and upgrading of their strategies. Digital marketing can have a high level of effectiveness, but the latest trends and technologies need to be constantly adapted. This process does not just consume valuable time, it can also incur significant costs.Another critical concern is data misuse and security issues. Businesses gather vast amounts of customer data in the digital world, which enables them to tailor their marketing efforts. However, there may be serious consequences if such data are misappropriated. Data breaches and security gaps can result in a permanent damage to the consumer's personal data and brand reputation unless adequate protection measures are put in place.Achieving comprehensive and efficient brand promotion requires a delicate balance between digital and traditional marketing approaches. Traditional methods may still have value in certain contexts, even when digital advertising offers a high degree of reach and analytics.
In-demand Digital Marketing Skills
1. Advertising Course:
 The art of advertising has to be mastered by all Digital Marketers. In order to meet your target audience, take care of creating and managing efficient online advertising campaigns using different ad platforms as well as optimising them.
2. Influencer Marketing Course:
For brands, influencer marketing has become a powerful strategy for their audience to be reached through influential figures. This course will prepare you for identifying, cooperating with and measuring the impact of influencer marketing campaigns.
3. SEO Course:
Search Engine Optimization (SEO) remains a cornerstone of digital marketing. In order to gain a higher ranking in search engine results, increase organic traffic and visibility, you will learn how to optimise your website and content.
4. Performance Marketing Course:
 The objective of performance marketing is to produce quantifiable results. In order to maximise the return on investment, you will learn techniques for monitoring, measuring and analysing campaigns.
5. SEM Course:
Search Engine Marketing (SEM) involves paid advertising to increase visibility on search engines. This course equips you with the skills to create, manage, and optimize SEM campaigns.
6. Email Marketing Course:
 An efficient way of engaging customers remains by means of email marketing. In addition to email automation and efficient copywriting, you will gain an understanding of how to build and sustain a successful email marketing strategy.
7. Content Marketing Course:
Content's king in this world of the Internet. In this course, you will learn how to make useful and meaningful content that is attractive in terms of attracting and retaining customers; thereby leading to conversion.
8. Social Media Marketing Course:
 Every marketing strategy involves social media in one way or another. Master social media platforms, learn how to create compelling content, engage with the audience, and run effective advertising campaigns.
9. Marketing Analytics Course: 
In a digital age driven by data, making decisions is essential. You will be guided through the marketing Analytics course, which will teach you how to gain an understanding of and use data in order to optimize your advertising efforts.
10. Web Analytics Course:
 In order to improve user experience and conversion, it is vital that you understand the performance of your website. In order to collect and interpret data in an efficient way, learn how to use Web Analytics tools.
11. Display Advertising Course:
You can display advertisements on various websites, giving you the opportunity to advertise your products. The basic principles of display advertising and how to create eye catching creative ads are taught in this course.
12. Affiliate Marketing Course: 
An affiliate marketing business is a performance based model where you're paying commissions for selling products of others. The techniques for developing successful affiliate marketing campaigns are explained in this course.
Digital Marketing Industry in India
The earliest examples of online connectivity were demonstrated with the introduction of Michael Aldrich online shopping system. In the following years, the Thomson Holidays UK was launched, then came the IndiaMART B2B in 1996.
It was ultimately in 2007 that the launch of Flipkart, an e-commerce marketing website changed the structure of marketing in India.
What followed was a rise in the number of people picking up mobile phones, online shopping, at-home delivery, and internet marketing as a means to popularize the brands.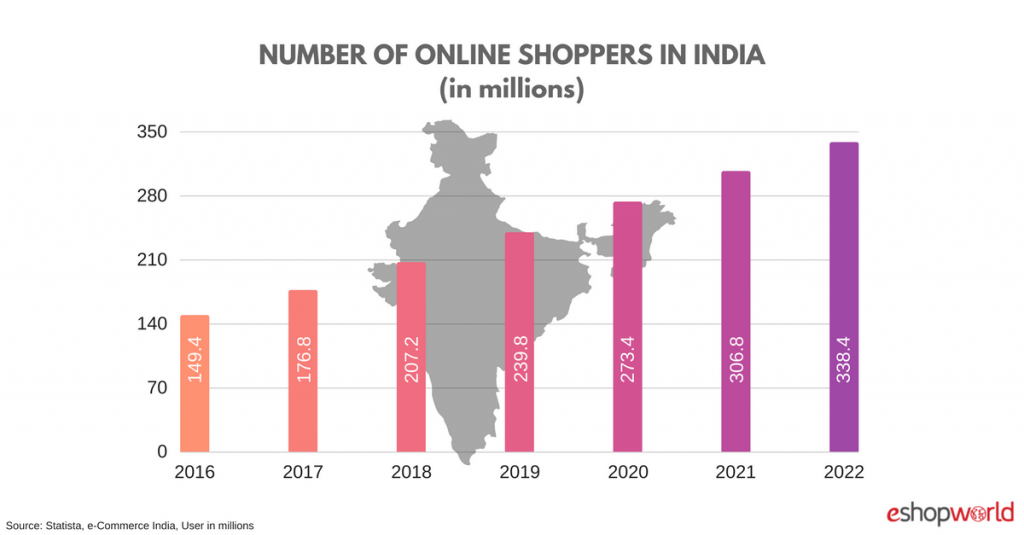 And, over the years the Digital Marketing Industry has prospered into bringing a large percent of business online with its promising ability to create a global network and flourish even the small businesses internationally. 
According to the International Journal of Advanced Research Foundation, India is undergoing a golden period of digital marketing growth ever since 2013 and the trend continues till 2025 at least. 
How it influences lives?
On average an Indian spends about 4-5 hours a day scrolling through social media, emails, and browsers. The growing market of gadgets like smartphones, laptops, tablets, etc has only increased the pace of usage and penetrated the market to make it reach to a wider set of audience.
The content on the internet influences the lives of people big time. Display of ideas through images, videos, texts, etc has a sound foundation into the minds of the people which translates into their living.
Digital marketing is very much about influencing the audience online with mediums of content to increase a brand's impact over the audience.
The amount of time spent by the people on the internet empowers digital marketers to create impactful strategies to influence consumer behavior. The right strategy converts the audience into sales.
As per 2019 stats, the
digital marketing industry
 in 
India
 is worth $68 billion! Additionally, advertising via mobile phones and tablets rose to 200 percent, that is $6 billion and Moreover,
India
 has 110 million mobile 
internet
 users of which 25 million are in rural areas.
Indian Government promotes Digital India
From 69 million online shoppers in 2016 and more than 100 million in 2017, India has seen a stark rise in the internet population.
Ever since the launch of Digital India in 2015 as an initiative to improve online infrastructure and digital empowerment, there has been mushrooming of a complete market of start-ups, services and more than connect people globally!
It has resulted in a rise of active internet users, mobile connections, social media traffic and more.
The emergence of digital marketing agencies and professionals
Digital marketing has become a genre of business. With more number of businesses opting to create a brand image online and reach out to the audience globally, the technicalities around the internet are also increasing.
Websites, blogs, marketing campaigns, SEO strategies, etc have penetrated deep into the metrics of the technicality that influences one's presence on the internet.
As a result, it takes some well-equipped experts to create a social standing for a brand. Over the past decade, the digital marketing agencies and professionals with deep insight into the field have emerged to cater to the needs.
With sound skills, imaginative minds and par excellence knowledge of what shall work for a business online – these experts are the flag bearers of digital marketing. 
The role of experts in digital marketing
Digital marketing is a big umbrella under which the technical, as well as non-technical skills to create a wave of popularity over the internet, is covered. The industry has created a variety of 28 job roles for individuals to seek employment and display their talents. There is a huge scope of career in digital marketing. 
As per the top job portals of India, there will be 
60-65 lacks digital jobs predicted by 2025
. At present, on 
Naukri
, there are around 
3,01,062 jobs
 listed, on 
Monster
 around 
69,119
, on 
Shine
 around 
2,56,234
 and on 
Timesjobs
 around 
2,72,321
 job options.
It takes experts from the field of web designing, web development, social media consultants, brand consultants, content writers, graphic designer, artists, etc., to come together and collectively work towards creating a visual representation of ideas that is easy to plant into the minds of the audience.
As the industry grows, the demand for creative experts in the field is rising too generating more employment in India and making India a hub for IT activities. 
What the future holds for digital marketing in India?
The return on investment for businesses through digital platforms has exceeded than that from real-life platforms. Companies are today shifting towards a more digitally empowered set-up to make the most of the golden period of digital marketing that India is witnessing.
About 70-80% of the population is dedicated to making purchases online, and e-commerce websites like Flipkart, Amazon, Myntra, etc are making waves with their influence over the market.
And, all of it in a country that still has about 2/3rd of the population with no access to the internet or smartphones. As the access to the internet over a larger population rises, India is to witness a revolution in terms of digitalization that will soon make India as one of the top markets in the world with the highest numbers of internet users. 
Online podcasts, web stories, entertainment, sports, business, social awareness and career in India gets more dependent on digital platforms for generating revenue, sharing information and country's progress.
Digital Marketing is becoming a promising industry with rapid career growth, increasing influences, and widespread activities!
About The Author:
Riddhi Chhabria is the founder of
All Stars Digital
. A digital marketer, wearing entrepreneurial shoes and paving the path as a consultant, always on the lookout to fill potholes with the rocks of progression.
FAQ's
How much is the scope of digital marketing?
The scope of digital marketing is vast and continually expanding. In today's technology-driven world, businesses are increasingly adopting digital platforms to reach and engage with their target audiences. Digital marketing encompasses various channels such as search engine optimization (SEO), social media marketing, email marketing, content marketing, pay-per-click advertising (PPC), and more. As more people spend time online, the potential for businesses to reach a larger audience and generate leads through digital marketing is significant.
What are the factors responsible for the growth of digital marketing in India?
Several factors contribute to the growth of digital marketing in India:
a. Increasing Internet Penetration:
India has experienced a significant surge in internet users, with more people gaining access to smartphones and affordable data plans. This has created a massive online audience that businesses can target through digital marketing.
b. Rising E-commerce Industry:
The rapid growth of the e-commerce sector in India has led to increased competition among businesses. Digital marketing provides a cost-effective way for e-commerce companies to reach their target customers and stand out in the market.
c. Social Media Boom:
India has witnessed a massive rise in social media usage, with platforms like Facebook, Instagram, Twitter, and WhatsApp becoming integral parts of people's daily lives. Businesses leverage social media marketing to build brand awareness and engage with their audience.
d. Government Initiatives:
The Indian government's push towards digitalization and the Digital India campaign has encouraged businesses to embrace digital platforms for their marketing efforts.
e. Measurable Results:
Digital marketing allows businesses to track and measure the performance of their campaigns in real-time, providing valuable data for optimizing strategies and making informed decisions.
When was the first digital marketing coined?
The term "digital marketing" was first coined in the 1990s when businesses started using the internet for marketing purposes. As the internet evolved, so did digital marketing techniques and strategies, leading to the diverse landscape we have today.
What is the future growth of digital marketing in India?
The future growth of digital marketing in India looks highly promising. As technology continues to advance, and more people come online, businesses will increasingly rely on digital marketing to reach their target customers. With the advent of new technologies like artificial intelligence, virtual reality, and augmented reality, the digital marketing landscape is likely to evolve further, creating new opportunities for businesses to connect with consumers in innovative ways.
Is there a demand for digital marketers in India?
Yes, there is a substantial demand for digital marketers in India. As businesses recognize the importance of establishing a strong online presence, they seek skilled professionals who can manage and execute effective digital marketing campaigns. From startups to established corporations, companies of all sizes require digital marketers to enhance their online visibility, engage with customers, and drive business growth.