Social media is not a new appellation for marketers and businessmen. It has become the basic medium for them to showcase their business strategies by researching, planning, executing, promoting and selling business products/services.
It is one of the best communication mediums that enable users to create content, share content or participate in social networking.
Social media marketing as a digital marketing tool is very different from traditional marketing tools for two reasons. First, the activity is largely public and accessible to marketers for research and strategy. Second, the medium allows for
bi-directional
communication – both direct and indirect.
Every day the social media generates a huge amount of real-time data which is counted as more than
500 million Tweets, 4.5 billion likes on Facebook and 95 million pictures
uploaded and shared on Instagram. The data is huge as compared to other marketing channels.
That means having an SMM panel which incorporates tools and methodologies to research your marketing audience, to monitor and react to the same audience, to preserve and grow your personal or brand reputation, to publish content that provides value to your social network, and incorporates a promotion strategy that drives business results (which can also sum up to social media advertising).
Social media marketing can present basic marketing opportunities for businesses of all sizes. You can use social media to:
promote the name of your brand and business

tell customers about your goods and services

find out what customers think of your business

attract new customers

build stronger relationships with existing customers.
SMM
on
Biteable
.
Major advantages of using Social Media Marketing:
Broad Reach & Ability to Target:
Through social media, you can target your audiences geographically to send your marketing messages specifically to the selected audiences based on their location. Social networks like Facebook and Twitter have tools that allow you to communicate the right kind of content to your audience.
The social media platforms like Facebook, Twitter, LinkedIn etc provides complimentary marketing insights which are research tools that help to gain information that will aid in understanding the industry.
Once you gain a large following on your business' social media platforms, you can use additional tools to analyze the demographics of your consumers. Another insightful aspect of social media marketing is the ability to segment your content syndication lists based on topic and identify which types of content generate the most impressions.
These tools give you the ability to measure conversions based on posts on various social media platforms to find the perfect combination for generating revenue.
Free or Low-Cost Investment:
It is a cost-effective marketing medium for all kind of small businesses than any other traditional marketing medium. From signing up to creating a profile, is free for almost all social networking platforms, and any paid promotions that you decide to invest in are a relatively low cost compared to other marketing tactics.
Being cost-effective is such an advantage because you can see a greater return on investment and retain a bigger budget for other marketing and business expenses plus exposure.
Brand Loyalty & Authority with Customer Satisfaction:
One of the major agenda of business marketing strategies is to gain a loyal customer base. The customer satisfaction and brand loyalty go hand-in-hand which solely depends on how regularly you get connected with your customer base and develop a bond with them. The social media platform is not only the platform to promote your products or services; it acts as a service channel where the customers can communicate with their favorite brands.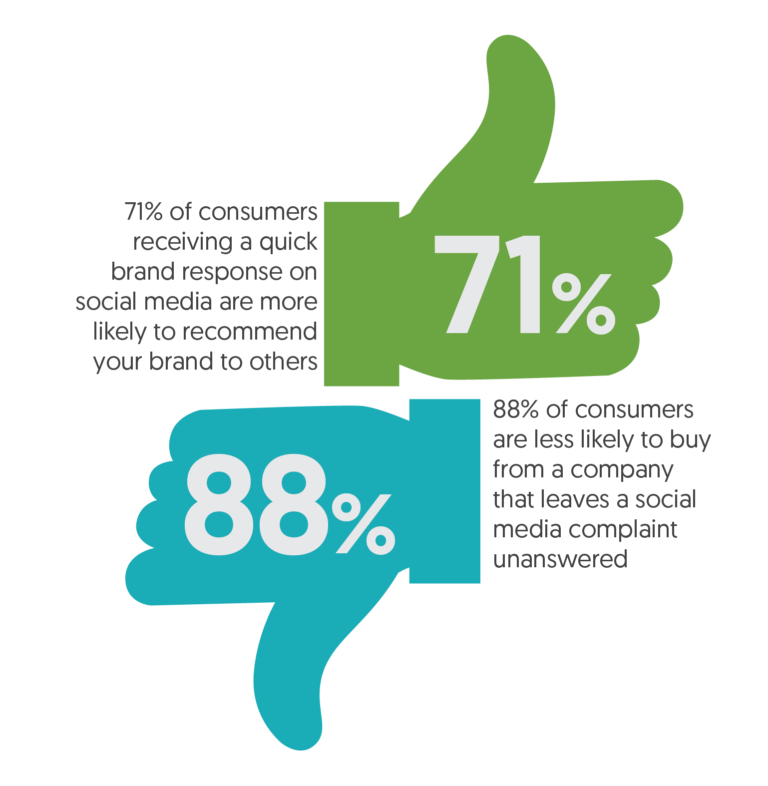 Regularly interacting with customers demonstrates that your business cares more about customer satisfaction, and is available to answer any questions that they might have. The satisfied customers are like a weapon for great business as a satisfied customer will be eager to spread the word about a great product or service and for this, they usually turn to social media to express their opinion.
Having customers mention your business on social media will advertise your business, and show new visitors your value and brand authority. Once you obtain a few satisfied customers who are vocal about their positive purchase experience, you can let the advertising be done for you by actual customers who enjoyed your product or service.
Higher Conversion rates:
With increased visibility on social media, businesses are gaining more opportunities for conversion. Every activity on your website such as blogs, content, post, share, comments etc will lead to viewers and increase traffic. Social media marketing allows your business to give a positive impression through a humanization factor.
In-person, people prefer to do business with other people, rather than companies. Over 51% of marketers claimed that taking the time to develop relationships with consumers showed positive results in sales and brand presence.
The better the impression you make on a visitor, the more likely they are to think of your business and remember when there is a need for your product or services arises.
Improved Search Engine Rankings:
SEO is very important for high page rankings and gaining huge traffic to your business website. As per social media study, more than 58% of marketers have accepted that using social media for one year or longer still see improved search engine rankings.
Being able to rank in the top positions for your keywords will revolutionize your traffic and continue to generate quick positive results for your business. To give yourself the best chance of ranking better through social media, you should create high-quality content that integrates your targeted keywords.
The content such as blogs, infographics, case studies, business information, and employee photos will make your business's social media profile intriguing and credible.
There are several
backlink building service
providers in the market who can boost your website ranking by providing quality links through organic traffic.

Different Social Media Platforms and services:
Facebook:
a social networking site that allows you to have conversations with customers, post photos, and videos, promote special offers, and more.
Twitter:
a 'micro-blogging' service that allows you to send and receive short messages from customers and potential customers
Youtube:
an online video-hosting service that lets people share their videos
Blogs:
internet sites that contain a series of entries or 'posts' about topics of interest to the author, much like an online 'diary'
Online Photo Sharing Services such as Instagram:
websites that allow users to store, organize and share their photo collections
Location-based marketing sites:
websites that deliver targeted marketing messages to customers in particular locations, through mobile devices such as smartphones and tablets
Customer review sites:
websites that feature customer reviews of goods and services.
It's evident that social media marketing has long-term beneficiary advantages, so if your business doesn't already have the appropriate profiles, create them!
Fill out your business' information, create business pages and post some engaging content to begin gaining followers. Don't forget to ask people relevant to your business to "like" and "share" your page to help build your profile. 
Or you can
outsource digital marketing
services that can help your brand to grow digitally.
SMM
on
Biteable
.