In the modern world where women have achieved a tremendous growth in creating a special place for them, to have equal platforms and rights whether it meant to studies, sports, jobs, and society. They have a very important role in the progress of any country too, as 49.6% population is governed by women around the world which is almost the half of the world's population. Talking about India, 65.2 crores are held by women with the sex ratio of 945 females per 1000 males. With this huge coverage, women today are making their own mark and presence felt almost in every field.
An ideal workplace woman has understood that digitals skills are highly recommended and valued in all the organizations. In the coming years, digital skills will become vital. The digital age is expanding into all areas of our lives, and it is not just those who work in IT that will need to be alert to this change; it has become a compulsion in every stream. Digital communication has become ubiquitous, especially for success in the workplace. In 2002, cell phones and the Internet replaced the television as the second-most indispensable technology, according to the Center for Public Education. The career-minded individuals can tap into digital marketing skills to increase efficiency, network, or implement innovative business solutions. Narendra Modi's start up friendly environment in the country has proved to be a blessing for female entrepreneurs and instrumental in fighting gender stereotyping in the business community. In reference to my statement regarding the women who has tremendously accepted the
importance of Digital Marketing in their life
and stood out of the league to stand up high when it comes entrepreneurship in India, I have stated few examples below: *
Richa Kar
Richa is the founder of online lingerie store Zivame, she grew up in Jamshedpur and completed her engineering from BITS Pilani (2002) and after having worked briefly in the IT industry she acquired Masters' degree from Narsee Monji Institute of Management Studies in 2007, and worked with a retailer and global technology company before starting Zivame.com.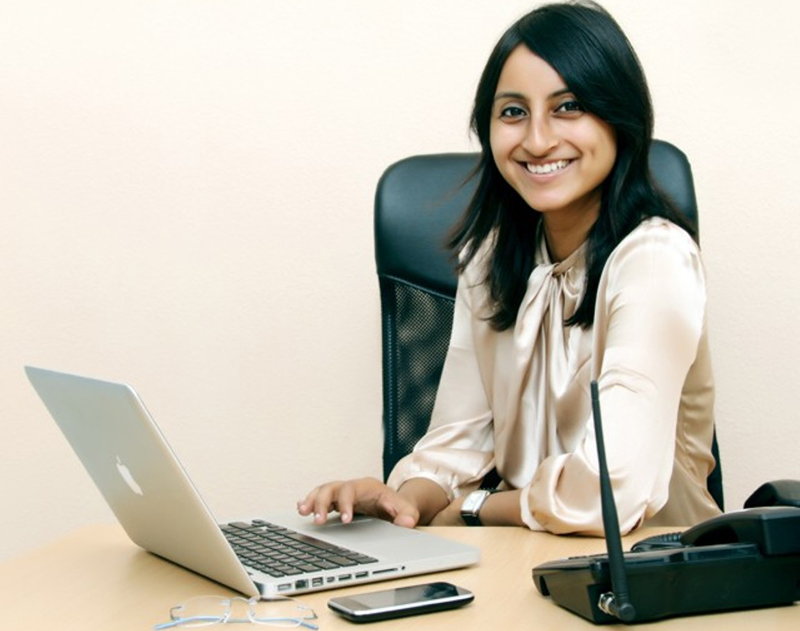 Zivame is probably the first in the online lingerie space in India and has played a role in educating women across the country about intimate wear and shaping consumer behavior. She has immensely used digital marketing platforms and has become the one of the top 10 Women Entrepreneur in India. Like her, there are many women out there who have done the fantastic job in entrepreneurship and raised the bars above high. Other examples like Nykaa's CEO- Falguni Nayar, very famous social marketing company Popxo's CEO- Priyanka Gill and much more. You will find hundreds of examples where women have understood the current need in the market and gained the digital marketing skill to nourish their dreams. For those who still are far away from Digital Marketing, here I would like to give a little glimpse about digital marketing and what are its career wise benefits?
What is Digital Marketing?
Digital Marketing is the form of marketing that helps marketers and businessmen to promote and advertise brands, products and services with the help the Internet and digital devices. It is a set of marketing online tools and strategies.

As the world has been on the path of digitalization and globalization, the marketing has changed its course of action with respect to same. This evolution of internet has made us searching, buying and paying so easy on the internet. Because of this evolution, companies today are either digital or becoming digital. With the massive reach and use of the world wide web i.e. internet, pitching a strong and long-time presence with digital marketing has become essential. A strong line online presence and using social media is considered a valuable asset for almost any business.
Other reasons why Digital Marketing is so fulfilling…..
A profession in Demand: While other industries are fighting with a growth rate of 5-10%, Digital Marketing is rolling up with an incredible growth rate of 40% and it is not going to remain stagnant. Due to this, Digital Marketing has been acknowledged as one of "The Top 5 Professions" in the world. In India itself, Our Prime Minister has confirmed that due to digitalization and encouragement of Digital India Campaign, there will be a demand of more than 18 lakhs digital jobs by coming next three years and India still don't have enough professionals to fulfill the gap.
Get paid more than other Professions: Due to its demand, the digital salaries are rising as companies need professionals those can target the right audiences and generate leads and sales for them. For this, Founders are ready to a handsome package to digital marketers, exclusive bonuses. Apart from job, digital marketing helps you to earn extra money many other ways like blogging, freelancing, online money making and so on.
It is the New Form of Marketing: The time has gone where marketers use old ways of traditional marketing to promote products or services. As millions of people are depended on the internet to search and find everything, marketers are making most of it by using digital means. Digital is the new trend across the globe. More than 50% of world population is connected via the internet. Social media channels are hugely popular. Smartphones and affordable internet data plans have made it easy to stay connected 24X7 even on the move – a necessity in these times of dynamic market changes. This makes it more important to follow the same trend and target the audience to achieve the best results. This is the reason companies demand marketers who have digital marketing skills and can help them to generate more leads and sales.
How can Digital Marketing help women in career?
Women in Business: Generally, women enter the business world in later life because of their previous careers and family responsibilities. According to Global Entrepreneurship Monitor report, "Women are nearly one-third more likely to start a business out of necessity than men". Under same necessity and right Digital Marketing skill, women can do wonders in the business. With the Digital Marketing strategies, they can make sure to deliver a reasonable ROI on time and resources.
Flexible Hours– You can work as per your timings. Digital marketing is a skill that you develop and with that skill, you can earn as per your own convenience. No need to do 9 to 6 cane job.
Trendy Profession– With the more dependence on Internet to earn money and grow a business, Digital Marketing can be the perfect choice for ladies who wish to have something big.
There is a huge demand of Digital marketing in each industry whether its e-commerce, hospitality, MNCs, education etc.
Help Your Partners: After becoming professionally trained in Digital marketing, you can help your partners or husbands in their business. It's a saying that "At first they will ask why you're doing it. Later they'll ask how you do it." This can be proved by adding more skills of digitization.
Easy to learn: This has been the easiest course to study especially who loves to be on the internet all the time. You don't need to have higher degree or percentage to learn Digital Marketing. Digital Marketing is open to all without any gender and stream partiality.
Freelancer: A freelancer is a term generally used for a person who is the self-employed person who offers services to multiple businesses. It is the best way to earn money is by working from home as per your schedule and convenience. The only thing is required in freelancing is good command over the language with the depth understanding of your chosen subject like you want to be a subject expert, content writer, social media marketer, etc.
As there is unlimited competition in the market, you need to be an expert on your subject and stand different out of all. There are many websites who want to outsource people for particular tasks. If your skill matches the requirement, you can earn lot depending on the type of job. For getting freelancing projects, you need to create your good portfolio and authority. Pursuing digital marketing is a very affordable and accommodating as compared to other professional courses. All you need is to just play with the internet and use your creativity to make it big and aspiring. Women are born with powers to do wonders, it just all depends on you how to make it worth it.