Digital Marketing Wrap from 1st Oct to 14th Oct
Hello, Our Readers!
Digiperform tries its best to educate you about digital marketing updates and the latest trends through its blog every day and month.
We duly understand that it's not easy to keep a tab on each day event or blog in such a busy schedule.
Therefore, we believe to share our weekly and monthly blog wrap to make your learning completely flexible and easy.
Have a look on our this month digital marketing wrap!
Celebrated International Podcast Week

16 Brilliant Indian Podcasts That You Should Listen
A podcast is a set of digital audio files (typically MP3s) that are available on the internet for downloading. The advantage of Podcasts that they are absolutely free (with few exceptions).
You will find various podcasters/influencers sharing their experiences on every topic from the news, arts, business, comedy, education, politics, sports, technology, music, health, spirituality, hobbies, and more. In this post, we would like to share the list of 16 Indian Indian Podcasts that you should listen if you want to stay updated.
Celebrated International Day of the Girl
Trainee Testimonials
"Just Don't Be A Dreamer, Be A Learner" – Girish Chauhan
Meet Digiperformer Girish Chauhan who has joined one of the digital marketing agencies – Go-Designy as an SEO Executive just after completing his dCDMC training.
Read more
"The Drastic Change In Marketing Trends Inclined Me To Learn Digital Marketing." – Divij Raj Baja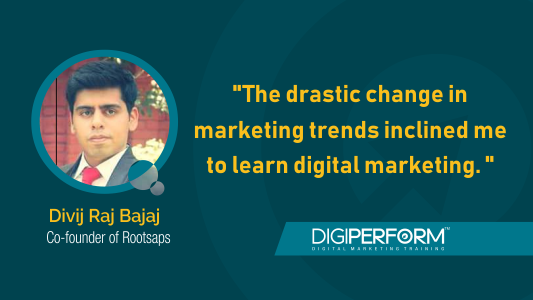 Meet Digiperformer Divij Raj Bajaj who was working as a Business Development Executive in Rodic Consultants Pvt Ltd where he realized that the market is more inclined towards digital mediums.
Meanwhile when he decided to start his own startup – RootsAps – he finally made the decision that if he would take his startup to big route where he might need to learn these digital ways if he wants to connect with the right audience.
Read more
Digiperform Has A Great Panel Of Trainers And Counselors That Make Your Learning Process Easy. – Aditiya Ashat
Meet Digiperformer Aditiya Ashat who is currently working as a Digital Marketing Executive in WoVoyage just after completing dCDMC training at Digiperform. Currently, he holds multiple roles in the company like website planning & creation, Google Advertising, Social Media Marketing, etc.
Testimonial Video
Meet Digiperformer Monica Kamal from Pinga Solutions – A Real Estate ERP Software Provider, sharing her views how Digiperform helped her to understand the role of digital marketing in the current scenario and manage her business in the digital space as well as lead a marketing team. Have a look!
Digital Marketing Blogs
How To Create Your Visual Brand Identity?
Finding a way to make a competitive advantage for your company is vital. Operational company success majorly is contingent upon the organization's brand identity to the target market.
Clients usually tend to get products which are easy to recall, and undoubtedly the logo design plays a critical part to make an enduring impression on the viewers.
Blockchain In Content Industry: All You Need To Know
Blockchain for Content Industry is in its beginning stage, particularly because the industry is still developing. However, blockchain technology is evolving quickly, and it may become one of the biggest disruptors to the Content Industry.
The Free Beginner's Guide To Content Marketing
They say that "
Content is King of Marketing. It is the ultimate weapon of marketing strategies that help us not only targeting the audience but in generating revenues as well. The content marketing strategy is kind of a Swiss Army knife that can do almost anything if you set it up the right way.
"
It's well acclaimed that whether it's a B2B or B2C,  89% success rate solely depends on your content marketing strategy. Therefore, it's a high time to understand the role of content marketing in business and act accordingly.  
We hope you like our wrap. Keep Reading and Happy Weekend!